---
Artsakh Genocide Day Twenty-Two
Written by AJ Baalman on October 10, 2023
PLEASE WATCH & SHARE ALL OUR PROGRAMS ON ARTSAKH
BE GENEROUS & DONATE & SPONSOR TO HELP THE FORCIBLY DISPLACED CITIZENS OF ARTSAKH
JOIN The Armenian Relief Fundraiser: All Funds will be sent to official charities helping the citizens of Artsakh!
Click Image To Get A Lepanto Flag & All Proceeds Will Go To Help The Forcibly Displaced Citizens Of Artsakh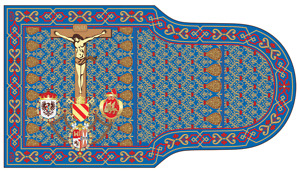 The Beginning, Day One, Day Two, Day Three, Day Four, Day Five, Day Six, Day Seven, Day Eight, Day Nine, Day Ten, Day Eleven, Day Twelve, Day Thirteen, Day Fourteen, Day Fifteen, Day Sixteen, Day Seventeen, Day Eighteen, Day Nineteen, Day Twenty, Day Twenty-One, Day Twenty-Two, Day Twenty-Three, Day Twenty-Four, Day Twenty-Five, Day Twenty-Six, Day Twenty-Seven, Day Twenty-Eight, Day Twenty-Nine, Day Thirty
Watch The Original
Watch On Rumble
Watch On Odysee
The News
There are indications of severe psychological distress among refugee children who have found shelter in Armenia, according to UNICEF.

Two weeks ago, more than 30,000 children were forced to flee their homes due to hostilities in their communities. UNICEF warns that without… pic.twitter.com/ptDxE3r0HU

— 301🇦🇲 (@301arm) October 10, 2023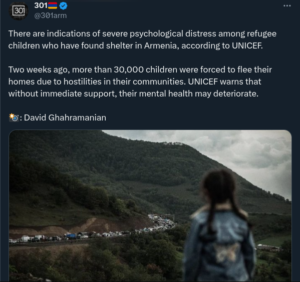 I spent a few days with @WCKitchen, who in partnership with @agbu, @alinekamakian and a squadron of amazing volunteers- many from Artsakh- have been helping to feed the Artsakh refugees, including this tiny baby- the youngest of three who had to flee her home in Stepanakert. pic.twitter.com/AlWzzax462

— Scout Tufankjian (@stufankjian) October 10, 2023
Laura Sevoyan tells of how Azerbaijani troops arrived in her native village of Vaghuhas, Nagorno-Karabakh and fired their weapons into the air, demanding that all Armenians leave. Her and her family fled to Stepanakert, and then to Goris. https://t.co/ZQ657bqNM3

— Neil Hauer (@NeilPHauer) September 28, 2023
In English:
Zangezur Corridor is part of the Big Game. Russia is instigating a new war.https://t.co/8Pgxqb0udp

— Διγενῆς Ἀκρίτης ֎ Pierre (@Digenes_Akrites) October 10, 2023
English translation of intetview with refugees from Artsakh.
The Russians sold us out to the Azeris. We'll return to Artsakh only if there are other peacekeepershttps://t.co/DOOrfYyOc0

— Διγενῆς Ἀκρίτης ֎ Pierre (@Digenes_Akrites) October 10, 2023
This weekend, two seriously injured young people from Nagorno-Karabakh were evacuated to the United States to receive specialist medical care.
Many thanks to all our partners who helped make the urgent medical evacuation happen. pic.twitter.com/QbnIrEWuL7

— US Embassy, Armenia (@usembarmenia) October 10, 2023
Thank you @SenBooker for standing on the right side of history.

"The United States must step up our existing efforts to provide humanitarian assistance to the tens of thousands of ethnic Armenians who have been forced from their homes in Nagorno-Karabakh… pic.twitter.com/hpdtP3fDIe

— ANCA Eastern Region (@ANCA_ER) October 9, 2023
English translation video:
Yes, we will return to Artsakh and we know how. Jirayr Sefilianhttps://t.co/JlHIT2Mg29

— Διγενῆς Ἀκρίτης ֎ Pierre (@Digenes_Akrites) October 10, 2023
The @UN mission bought by #Aliyev, after two visits, did not see the destruction of civilian infrastructure in Stepanakert due to shelling by 🇦🇿. #ShameOnYouUN pic.twitter.com/BUTohNZTpx

— WorryAboutYou (@armenian_lives) October 10, 2023
In @latimes: The forced exodus from Artsakh wasn't voluntary. Thousands fled through the Lachin Corridor. Azerbaijan's disinformation conceals ethnic cleansing. International action is needed to stop this ongoing tragedy. #120000Reasonshttps://t.co/wLrUPDdGxW

— 120,000 Reasons (@120000Reasons) October 10, 2023
⚡️Armenian Prime Minister Nikol Pashinyan said that if Russian peacekeepers in Nagorno-Karabakh leave the region, they should return to Russia and not redeploy to Armenia.

— George Ivanovich Gurdjieff ֎ #StopArmenianGenocide (@ArmanKirakosy12) October 10, 2023
A direct act of an ethnic cleansing/#ArmenianGenocide2023 by azerbaijan.Those who didn't manage to flee were massacred by azeri #terrorists.

😔-Turks butchered my brother and my aunt, we don't have their corpses or any other information.Thousands are dead and many more missing. pic.twitter.com/NzaBG5sJlM

— Mariam (@MariamErgric) October 10, 2023
Losses By The Terrorist Army Of Azerbaijan 
About the losses of the AR Armed Forces from September 19 to 20, 2023!
In the Martuni area, in the first two minutes, mortar shells arrived at infantry trucks, with 30-40 people in each vehicle. In the Martuni region, the Azerbaijani army suffered almost everything from…

— George Ivanovich Gurdjieff ֎ #StopArmenianGenocide (@ArmanKirakosy12) October 10, 2023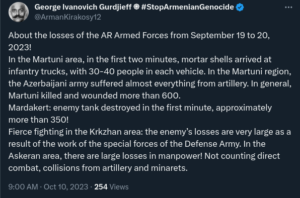 About The Refugees
4-year-old Mika, a refugee living in a restaurant in Bambakashen with 30 others, overheard me speaking in the Artsakh dialect today while we were with the @AGBU program providing food. His eyes filled with hope as he asked, "Did you come to take us back home?" pic.twitter.com/6lkOIoodFE

— Siranush Sargsyan (@SiranushSargsy1) October 10, 2023
Ashot Vardapetyan was born in 2000. In Achajur village of Tavush marz, he served in "Martuni 2" of Artsakh. He was killed on October 26, 2020 by Azerbaijani forces. pic.twitter.com/z1n9mqZCo6

— The US Armenians (@TheUSArmenians) October 10, 2023
Words are unnecessary here, just look how this #Armenian child helps on an equal basis with adults Mikael is from Martakert, his family, like many #Armenians of #Artsakh, was forcibly settled. Now they are in the village of Hayanist, Armenia where Mikael is giving a helping hand… pic.twitter.com/DXFCvDCyKs

— Lianna (@lianna_armenian) October 10, 2023
#DeepDive: "Look at what's happening between #Azerbaijan & #Armenia" — @VivekGRamaswamy on Azerbaijan's atrocities against Armenians, lobby efforts to quash coverage, & the Washington DC establishment's "selective moral outrage"#120000Reasons #Artsakh #GOP #ANCATweet pic.twitter.com/16XmPeUwSv

— ANCA (@ANCA_DC) October 10, 2023
With well over 75,000 total meals to date, our team is on the ground with serving warm meals to Artsakh families and elderly currently in seven regions.

To see how you can help those affected by this crisis, visit https://t.co/zMuB29gYeZ or https://t.co/CJtaKD52od@WCKitchen pic.twitter.com/q4pVg2Kpxm

— AGBU | #StopArtsakhGenocide (@agbu) October 10, 2023
Grey Wolves Take Vice President Of PACE 
BREAKING:The son of the leader and founder of the terroristic organization "Grey Wolves" elected PACE vice-president.

Yıldırım Tuğrul Türkeş is the son of the founder and president of the Nationalist Movement Party (MHP) and the Grey Wolves (Ülkü Ocakları), Alparslan Türkes.… pic.twitter.com/Jd7AlchBMw

— 301🇦🇲 (@301arm) October 10, 2023
Who Are the Extremist 'Grey Wolves'?
Hits: 403
---
Reader's opinions
---