---
Artsakh Genocide Day Twelve
Written by AJ Baalman on September 30, 2023
BE GENEROUS & DONATE TO HELP THE FORCIBLY DISPLACED CITIZENS OF ARTSAKH
JOIN The Armenian Relief Fundraiser: All Funds will be sent to official charities helping the citizens of Artsakh!
Click To Donate Via Buy Me A Coffee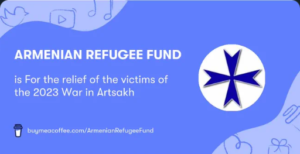 The Beginning, Day One, Day Two, Day Three, Day Four, Day Five, Day Six, Day Seven, Day Eight, Day Nine, Day Ten, Day Eleven, Day Twelve, Day Thirteen, Day Fourteen, Day Fifteen, Day Sixteen, Day Seventeen, Day Eighteen, Day Nineteen, Day Twenty, Day Twenty-One, Day Twenty-Two, Day Twenty-Three, Day Twenty-Four, Day Twenty-Five, Day Twenty-Six, Day Twenty-Seven, Day Twenty-Eight, Day Twenty-Nine, Day Thirty
Watch The Original
Watch On YouTube
Watch On Rumble
Watch On Odysee
THE NEWS 
Urgent intl aid is needed in #Armenia! The aid orgs are slow to respond to this humanitarian crisis, many sleep outside in the cold. In parallel, thousands of Armenians have opened their homes providing food/shelter but we talk about 100K+ in a small country #NagornoKarabakh pic.twitter.com/K1jYheJDEx

— Siranush Sargsyan (@SiranushSargsy1) September 30, 2023
#France donates 5 tons of medical supplies to #Armenia for forcibly displaced persons from NKhttps://t.co/Qhiu697SZZ pic.twitter.com/XtkuVVrOIm

— ArtsakhPress Agency (@ArtsakhPress) September 30, 2023
As Americans we are rightfully, righteously angered that @JoeBiden has armed and abetted – aided and emboldened – Azerbaijan's oil-rich Aliyev regime, that is today committing real-time genocide against Artsakh's 120,000 indigenous Armenian Christians." #120000Reasons pic.twitter.com/0BQYjhOhRe

— ANCA (@ANCA_DC) September 30, 2023
Among many heartbreaking images of the forced displacement of the indigenous people of #Atrsakh, this one is especially striking. Leaving behind his home and homeland, this young man has chosen to take with him this fragment of a khachqar, a cross engraved in stone. pic.twitter.com/YtMrcoPbNu

— Gohar Hayrapetyan (@GoharHayrapety1) September 30, 2023
Government of #Armenia to cover housing and utility costs for those forcibly displaced from Nagorno Karabakh – PM https://t.co/Xcra9eEbO3 via @armradio

— Public Radio (@armradio) September 30, 2023
As of September 30, the number of Artsakh citizens who died in Armenia's hospitals reached 14 people, wounded – 361: Health Minister Anahit Avanesyan.

— RE:PUBLIC PRESS #StopArtsakhBlockade (@REPUBLICPRESS_) September 30, 2023
#Türkiye 🇹🇷 sent its troops to Artsakh.@POTUS @SecBlinken

NATO must kick 🇹🇷 out! pic.twitter.com/4pt10mOOKq

— WorryAboutYou (@armenian_lives) September 30, 2023
LEARN ABOUT THE CHILDREN OF ARTSAKH
"Children who are moved here are experiencing fear, anxiety, and sleeplessness," -a volunteer Gasia at the registration center for Artsakh refugees in Goris told us pic.twitter.com/qz9DznCBMP

— Siranush Sargsyan (@SiranushSargsy1) September 30, 2023
What Stephankert Looks Like Now 
Once home to 150,000 #Armenians…

This is what Aliyev did, and the international community allowed it to happen. Corrupt politicians with double standards.

This will not end here. #Artsakh pic.twitter.com/T6dKIzshcA

— Jora (@TheScarmind) September 30, 2023
A Song In Honor Of Artsakh 
Brunette released a song dedicated to Artsakh. pic.twitter.com/PMsrSCVdg6

— The US Armenians (@TheUSArmenians) September 30, 2023
☠️ When the savages are let loose. https://t.co/G8acHFV63h

— Mary (@MaryHogin) September 29, 2023
"The White House has yet to declare a cessation of military aid to Azerbaijan, even as Congress grows more frustrated with its tepid response." – @mrubin1971 https://t.co/y0JIOO5lSO

— ANCA (@ANCA_DC) September 30, 2023
An Elderly Woman Captured and Tortured
Azerbaijani military forces captured a 62-year-old woman from Artsakh on September 18th, transported her to Karvachar, attempted to kill her, and accused her of murdering Azerbaijanis.

Over the course of 6 days, she endured violence and was subjected to rifle butt strikes.… pic.twitter.com/IHvADH7NfI

— Ararat Petrosyan (@araratpetrosian) September 30, 2023
Horrible Crimes 
During the 2020 war a 18 year old Armenian soldier was skinned alive. It was the cousin of an American Armenian semi famous make-up artist. pic.twitter.com/UxwrvsovbD

— Διγενῆς Ἀκρίτης ֎ Pierre (@Digenes_Akrites) September 29, 2023
These are delusional people and Genocidal Maniacs call themselves "turks"! Entire world will sit idle as well as this time, because they love to see world in war and blood rivers run through, they love to see innocents killed and beheaded by these barbaric maniacs!
If the world… https://t.co/kp8edsDFqX

— Gagikangelo ֎ #StopArtsakhBlockade (@Gagikangelo) September 30, 2023
Artsakh Is Nearly Empty Of Armenians 
Artak Beglaryan: Almost no #Armenians left in #Artsakhhttps://t.co/emWIn8HRaV pic.twitter.com/YtiCZCG5eS

— ArtsakhPress Agency (@ArtsakhPress) September 30, 2023
Artsakh is almost fully empty with at most a few hundred people remaining, who are also leaving.
Are intl observers going to check how the rights & security of the animals are protected by the Aliyev genocidal regime?
With strong intl guarantees people will return to their homes. pic.twitter.com/VylGCyoO2I

— Artak Beglaryan | #StopArtsakhGenocide (@Artak_Beglaryan) September 30, 2023
Today at noon, the number of forcibly displaced people from #Artsakh/#NagornoKarabakh seeking refuge in the Republic of #Armenia reached 100,417.

Almost the whole indigenous population of Artsakh left their homeland.

Video from @Artak_Beglaryan pic.twitter.com/S9Wl2S8kCX

— Anna A. Naghdalyan (@naghdalyan) September 30, 2023
100,437 forcibly displaced people from Artsakh have arrived in Armenia. As of now, 21,062 vehicles have crossed the Hakari bridge. pic.twitter.com/cF9db7uJl0

— The US Armenians (@TheUSArmenians) September 30, 2023
Only a few hundred sick remain and they will be evacuated with the workers.  We are looking at either 19 or 18k people who have been murdered by Azerbaijan.
The English Gives Humanitarian Aid Money
#UK to provide £1 million to support forcibly displaced persons from #NKhttps://t.co/9lHo3RUBz9 pic.twitter.com/o1SXUqiJqr

— ARMENPRESS News (@armenpress) September 30, 2023
Update On Those Illegally Arrested By Azerbaijan
UPDATE: In Baku the court has decided to detain Levon Mnatsakanyan as a precautionary measure.

He was moved to solitary confinement.

Mnatsakanyan, the former commander of the Artsakh Armed Forces, faces charges under Article 113 (torture) of the Azerbaijani Criminal Code. https://t.co/JCeR1fakmm

— 301🇦🇲 (@301arm) September 30, 2023
News Between France and Azerbaijan 
After the resignation of several members, the France-Azerbaijan parliamentary friendship group at the 🇫🇷 National Assembly suspends its activities and relations with the Azerbaijan-France friendship group of the Azerbaijani parliament. #SanctionAzerbaijan #NagornoKarabakh… https://t.co/A51yMIVXPw

— Nara (@nmatini) September 30, 2023
Search and Rescue Is Underway In Artsakh
A group of employees of the Interior Ministry and Road Police headed by the Minister of Internal Affairs Karen Sargsyan has overcome many difficulties and continues to stay in Artsakh and conduct search and rescue operations in several directions at once. The group will continue…

— RE:PUBLIC PRESS #StopArtsakhBlockade (@REPUBLICPRESS_) September 30, 2023
Preparations For The Defense Of Syunik
— Διγενῆς Ἀκρίτης ֎ Pierre (@Digenes_Akrites) September 30, 2023
Sefilyan announced preparations for the defense of Syunik:

• Now we are forced to work in 2 directions. On the streets of Yerevan and Syunik;
• I call on all those who fought to unite;
• We will not allow a repetition of the Artsakh scenario in Syunik.https://t.co/WM4v7L6cuu

— Διγενῆς Ἀκρίτης ֎ Pierre (@Digenes_Akrites) September 30, 2023
Hits: 185
---
Reader's opinions
---