---
On June of 2017, we started this Radio Apostolate to give coverage to Christian Persecution, and then we broke into different topics regarding the teaching of the Catholic Faith through the Roman Catechism of the Council Of Trent, Just War Theory, and many excellent interviews.
We have grown into over 5 Million Viewers and I thank you all.  Please Keep It Up and We Will Keep Up The Hard Hitting Investigations You Have Come To Know and Love, which the globalists hate.
YouTube has considered us dangerous to their community, which we are dangerous to their globalist community. Today, YouTube has deleted Ordo Militaris Radio TV from YouTube.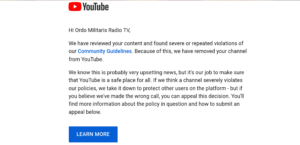 Hits: 11744
---