---
Artsakh Genocide Day Fourteen
Written by AJ Baalman on October 2, 2023
PLEASE WATCH & SHARE ALL OUR PROGRAMS ON ARTSAKH
BE GENEROUS & DONATE & SPONSOR TO HELP THE FORCIBLY DISPLACED CITIZENS OF ARTSAKH
JOIN The Armenian Relief Fundraiser: All Funds will be sent to official charities helping the citizens of Artsakh!
Click To Donate Via Buy Me A Coffee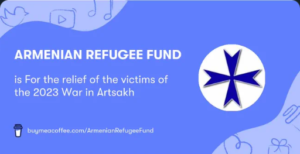 Watch The Original
Watch On YouTube
Watch On Rumble
Watch On Odysee
The Beginning, Day One, Day Two, Day Three, Day Four, Day Five, Day Six, Day Seven, Day Eight, Day Nine, Day Ten, Day Eleven, Day Twelve, Day Thirteen, Day Fourteen, Day Fifteen, Day Sixteen, Day Seventeen, Day Eighteen, Day Nineteen, Day Twenty, Day Twenty-One, Day Twenty-Two, Day Twenty-Three, Day Twenty-Four, Day Twenty-Five, Day Twenty-Six, Day Twenty-Seven, Day Twenty-Eight, Day Twenty-Nine, Day Thirty
THE NEWS & STORIES OF HEROES
7 Y/O Gurgen is hero. Even though he was wounded,he still managed to rescue his little brother and sister and get them to safety.
They all got injuries in the Azeri indiscriminate shelling of their village that claimed 5 civilians' lives, including 3 children #EthnicCleansing pic.twitter.com/d9owXsNInE

— Siranush Sargsyan (@SiranushSargsy1) October 2, 2023
🙏 The children of Artsakh have already experienced two wars in their short lives.

Now they live like refugees. Huge relief efforts are being made in Armenia, but the youngest arrivals are facing difficult times… pic.twitter.com/g8AepkQxFK

— George Ivanovich Gurdjieff ֎ #StopArmenianGenocide (@ArmanKirakosy12) October 2, 2023
A teacher and schoolchildren in one of the schools in Armenia welcome a new classmate who has been forcibly displaced from #Artsakh due to Azerbaijani aggression.#Armenia #NagornoKarabakh #Azerbaijan pic.twitter.com/5890fSE1Fv

— Ararat Petrosyan (@araratpetrosian) October 2, 2023
Still is no official number on military losses from Nagorno Karabakh's side during the 19-20 September fighting. It's thought that many bodies remained where they fell or died from their injuries (couldn't be evacuated.) Reports of many fighting to the last man at their positions

— Nagorno Karabakh Observer (@NKobserver) October 2, 2023
"MILITARY PRAYERS OF ARTSAK PERFORMED IN ANTILIAS STATE"
ԱՐՑԱԽԻ ԶՕՐԱԿՑԱԿԱՆ ԱՂՕԹՔ ԿԱՏԱՐՈՒԵՑԱՒ ԱՆԹԻԼԻԱՍԻ ՄԱՅՐԱՎԱՆՔԻ ՄԷՋ https://t.co/1gTmrSTWxJ

— Armenian Church (@holyseeofcilici) October 2, 2023
A forcibly removed refugee from #Artsakh recounts the horrors in Verin Hoghatagh village, where at least 6 disabled ppl, including his brother, were massacred. A woman named Anush was raped, mutilated & killed, reminiscent of #Sumgait & #Baku massacres. @UN must visit to witness! pic.twitter.com/tFX46yzsgs

— Maro Kochinyan (@MaroKochinyan) October 1, 2023
Were wars, explosions, and ethnic cleansing in the past 2 weeks not enough?
Are we being made fun of by the intl community? By the UN? By the media now in #Stepanakert? They acted deaf when it was convenient, and now #Artsakh is empty of its Armenian population.
Shame on them. pic.twitter.com/bYo3IqcWjE

— Siranush Sargsyan (@SiranushSargsy1) October 2, 2023
This emblem, worn by an Azeri soldier, vividly underscores the deeply rooted issue of #Armenophobia within Azeri and Turkish societies. The inscription, "qaçma Erməni, sadəcə yorğun öləcəksən," translates to, "Don't escape, Armenian; you will only die exhausted!" Moreover, it… pic.twitter.com/Tb5cf83oTE

— Armenophobia.org (@ArmenophobiaOrg) October 2, 2023
Four Artsakh presidents – Arkady Ghukasyan, Bako Sahakyan, Arayik Harutyunyan, Samvel Shahramanyan – have not moved to Armenia. According to Aravot, they continue to stay in Artsakh. It is expected that as a result of a series of meetings and discussions to be held today with the…

— RE:PUBLIC PRESS #StopArtsakhBlockade (@REPUBLICPRESS_) October 2, 2023
#UNESCO @UNESCO pic.twitter.com/G9kfYcfs9T

— vic gerami (@vicgerami) October 2, 2023
Azerbaijan Re-Arming and Training Thanks To Italy
MAJOR – Italian M346 fighter/trainer (reg. CPX625; ICAO 33FD4E) seen flying across Azerbaijan near Armenia and Georgia. Baku announced signing a contract with @Leonardo_live back in February 2020, but first time we've tracked them flying.

Source: https://t.co/A2BeHEzp9j https://t.co/Ls9m53glYz pic.twitter.com/1cOvapD5x0

— Nagorno Karabakh Observer (@NKobserver) October 1, 2023
Aliyev spoke at the #IAC2023 opening ceremony in Baku. IAC is a space conference attended by space professionals from 90+ countries.

Naturally, Aliyev bragged about the ethnic cleansing of Nagorno-Karabakh.

Did attendees watch this and think, "I've made a huge mistake"? pic.twitter.com/uddewqihWg

— Lindsey Snell (@LindseySnell) October 2, 2023
Nine-year-old Nare from Artsakh #NagronoKarabakh who has witnessed three wars in her life, would prefer to stay in her country, but Azerbaijan didn't have any choice for her pic.twitter.com/rwq4Qoloik

— Siranush Sargsyan (@SiranushSargsy1) October 2, 2023
Azerbaijani Terrorist Action Against The Food Truck Of The Armenian Army
On October 2, at around 2:25 p.m., Armed Forces units of #Azerbaijan discharged fire from small arms targeting a vehicle carrying food for the personnel of the Armenian combat outposts in the vicinity of Kut – MOD #Armenia pic.twitter.com/6ynZIAliQF

— David Galstyan (@Aeternum7) October 2, 2023
Azerbaijanis shot Artsakh Defense Army servicemen pic.twitter.com/TtHmB3GcZQ

— Ararat Petrosyan (@araratpetrosian) October 2, 2023
RIP | Aram Kocharyan

The first Armenian soldier killed in the wake of Azerbaijan's genocide of Artsakh. pic.twitter.com/cL4KiX9Bmr

— ANCA (@ANCA_DC) October 2, 2023
Final Tally Of Forcibly Displaced Citizens Of Artsakh 
Currently, 100,520 citizens forcibly displaced from Artsakh (Nagorno-Karabakh) as a result of ethnic cleansing have arrived in the Republic of Armenia.

— RE:PUBLIC PRESS #StopArtsakhBlockade (@REPUBLICPRESS_) October 2, 2023
EUROPE GOING TO DO THE CORRECT THINGS?
The head of the European Affairs Committee of the Bundestag, in connection with the situation around #NagornoKarabakh, called on the #EU to impose sanctions on Azerbaijan and reconsider contracts with Baku for #gas supplies.#Artsakh #Armenians #Germany

— Arthur Maghakian (@ArMaghak) October 2, 2023
Hero Doctors and Nurses Who Saved Lives
🇦🇲 White Army of Artsakh.
Doctors who saved thousands of lives. pic.twitter.com/qpVcspnZax

— George Ivanovich Gurdjieff ֎ #StopArmenianGenocide (@ArmanKirakosy12) October 2, 2023
UN Azerbaijan Protects Aliyev
🔴Corrupt Scum

"The @UNinAzerbaijan found no signs of destruction of civilian infrastructure in Stepanakert"#Armenia #Artsakh #Azerbaijan #NagornoKarabakh pic.twitter.com/pdarWf3r5C

— Ararat Petrosyan (@araratpetrosian) October 2, 2023
British Petroleum Receiving Letters On Supporting Azerbaijan 
Just in. A letter from @bp_plc on Nagorno-Karabakh in response to a @BHRRC call to demonstrate social responsibility. Unsurprisingly, BP is acting as if it has no influence on Azerbaijan nor responsibility to stop enabling the genocidal regime. https://t.co/OMUcIqZ8U2 pic.twitter.com/3lpSOiDAzY

— Simon Maghakyan (@simonforco) October 2, 2023
CALLING ON CITIZENS OF ARTSAKH TO TESTIFY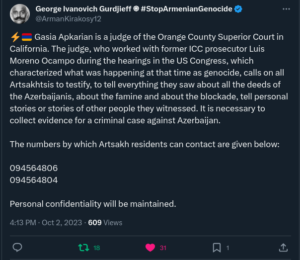 ⚡️🇦🇲 Gasia Apkarian is a judge of the Orange County Superior Court in California. The judge, who worked with former ICC prosecutor Luis Moreno Ocampo during the hearings in the US Congress, which characterized what was happening at that time as genocide, calls on all Artsakhtsis…

— George Ivanovich Gurdjieff ֎ #StopArmenianGenocide (@ArmanKirakosy12) October 2, 2023
UNITED STATES STATE DEPARTMENT IS A COWARD 
Matthew Miller – @StateDeptSpox for Biden's State Department – refuses to call Azerbaijan's ethnic-cleansing of #Artsakh ethnic-cleansing.

Can't find the courage to say they were forced out by genocide.

Strongest verbs he can summon are "departed," and "relocated." pic.twitter.com/7CrHwpAmRs

— ANCA (@ANCA_DC) October 2, 2023
Hits: 67
---
Reader's opinions
---