---
Artsakh Genocide Day Fifteen
Written by AJ Baalman on October 3, 2023
PLEASE WATCH & SHARE ALL OUR PROGRAMS ON ARTSAKH
BE GENEROUS & DONATE & SPONSOR TO HELP THE FORCIBLY DISPLACED CITIZENS OF ARTSAKH
JOIN The Armenian Relief Fundraiser: All Funds will be sent to official charities helping the citizens of Artsakh!
Click To Donate Via Buy Me A Coffee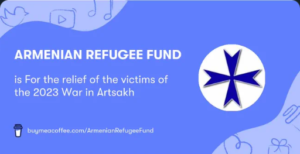 The Beginning, Day One, Day Two, Day Three, Day Four, Day Five, Day Six, Day Seven, Day Eight, Day Nine, Day Ten, Day Eleven, Day Twelve, Day Thirteen, Day Fourteen, Day Fifteen, Day Sixteen, Day Seventeen, Day Eighteen, Day Nineteen, Day Twenty, Day Twenty-One, Day Twenty-Two, Day Twenty-Three, Day Twenty-Four, Day Twenty-Five, Day Twenty-Six, Day Twenty-Seven, Day Twenty-Eight, Day Twenty-Nine, Day Thirty
Watch The Original
Watch On YouTube
Watch On Rumble
Watch On Odysee
THE NEWS
R.i.P. 21-year-old Aram Kocharyan, who was killed by Azerbaijani fascists on October 2 while transporting food. pic.twitter.com/icJi93EK6x

— Διγενῆς Ἀκρίτης ֎ Pierre (@Digenes_Akrites) October 3, 2023
I found this heroic doctor on FB. She's Svetlana Harutyunyan, who was one of the last ones, with other Artsakh doctors, leaving #Nagorno_Karabakh w/ remaining patients. I thanked her for her service.
Her response: "I am sorry, I couldn't do more…" #EthnicCleansing #Azerbaijan https://t.co/L8YJFWYdze

— Nara (@nmatini) October 3, 2023
⛔️ Azerbaijan reissues Nagorno-Karabakh's map with a street named after the Turkish criminal leader of 1915 Armenian genocide.

Here is one for you @SecBlinken @UN @vonderleyen https://t.co/2Y7Tw6Vnr0

— Mary (@MaryHogin) October 3, 2023
"In one fell swoop, one of the world's most brutal dictatorships destroyed one of the world's oldest Christian communities. Not only that, but the dictatorship in question receives US military aid and is considered a 'valued partner' of the US"https://t.co/LMP3tMGokj

— ANCA (@ANCA_DC) October 3, 2023
A story of incredible bravery from 13-year-old Gor, who drove for 55 hours to ensure his family's safety.

His courage echoes that of other minors from #Artsakh/#NagornoKarabakh forced to take the wheel for their family's escape. #ArtsakhStronghttps://t.co/AWQeY8L6Qx

— Anna A. Naghdalyan (@naghdalyan) October 3, 2023
Great News For Armenia 
BREAKING: National Assembly of #Armenia ratified Rome Statute with 60 votes in favor, 22 against, and 0 abstentions. pic.twitter.com/nLcEqTdo8w

— Jora (@TheScarmind) October 3, 2023
RESCUE OPERATION CALLED OFF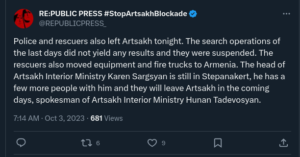 Police and rescuers also left Artsakh tonight. The search operations of the last days did not yield any results and they were suspended. The rescuers also moved equipment and fire trucks to Armenia. The head of Artsakh Interior Ministry Karen Sargsyan is still in Stepanakert, he…

— RE:PUBLIC PRESS #StopArtsakhBlockade (@REPUBLICPRESS_) October 3, 2023
MAKES YOU WONDER ABOUT POPE FRANCIS 
The #ArtsakhGenocide started 3 years ago & was finalized 11 days ago. The #Pope @Pontifex who happily takes bribes from #Aliyev hasn't said a word about #Armenians going through a 2nd genocide. 💵 buys the #Vatican too. @VaticanNews @CatholicNewsSvc @CatholicHerald @cnalive… pic.twitter.com/uBxPqH9cmW

— vic gerami (@vicgerami) October 3, 2023
AZERBAIJAN EXECUTING A WOUNDED ARTSAKH POW 
Terrorists from Azerbaijan 🇦🇿 viciously executing a wounded POW from Artsakh🇦🇲 while his still alive and is pleading with the terrorists to not kill him #AzerbaijanIsATerroristState #Nagorno_Karabakh

Clear video too graphic to post pic.twitter.com/r5xhIl4ZYP

— A World United Against Terrorism (@AWorldUnited2) October 2, 2023
MORE PEOPLE FOUND & BROUGHT TO ARMENIA 
Another 97 people arrived in Armenia from Artsakh. According to the latest data, 100,617 people forcibly displaced from Artsakh (Nagorno-Karabakh) as a result of ethnic cleansing are already in Armenia.

— RE:PUBLIC PRESS #StopArtsakhBlockade (@REPUBLICPRESS_) October 3, 2023
‼️Arrival of internally displaced persons from Artsakh to Armenia in numbers

As of October 2, 100,520 residents of Artsakh arrived in Armenia, of which 53,935 received temporary housing from the Armenian authorities in 10 regions of the country.

▪️Aragatsotn region – 2454… pic.twitter.com/dZkGypmXZm

— George Ivanovich Gurdjieff ֎ #StopArmenianGenocide (@ArmanKirakosy12) October 2, 2023
AZERBAIJAN BRIBED THE UN 
BREAKING: Azerbaian's President Aliyev announced he has donated one million USD to the United Nations Human Settlements Program (UN-Habitat) from the Presidential Contingency Fund. This donation comes the day before a UN mission visited the Artsakh region.

The UN mission… pic.twitter.com/XCms4aPlZf

— 301🇦🇲 (@301arm) October 3, 2023
100,617 forcibly displaced persons have crossed into #Armenia from #Artsakhhttps://t.co/H1TyJlSoVE pic.twitter.com/m5y2znXWqV

— ArtsakhPress Agency (@ArtsakhPress) October 3, 2023
War Crimes in #Karabakh (#Artsakh): Will Aliyev See His Day in Court?@CFTJustice @GassiaApkarian https://t.co/b9nkJDyedP

— CIVILNET (@CivilNetTV) October 3, 2023
Azerbaijan Arming Up With Modern Drones
Selcuk Bayraktar confirmed that Baykar Akinci UCAVs will be transferred to Azerbaijan very soon.

-At least 4 batches of AZ pilots trained on the system.
-No word on timing, but almost certain it will be delivered.

Alarming given magnitude of advanced weaponry given by TR to AZ. pic.twitter.com/L45rMty8IW

— Hovhannes (@JughaFedayi) October 3, 2023
Government Members Of Artsakh Are In Armenia
Interior Minister Karen Sargsyan, National Security Service Head Ararat Melkumyan, Chief of Staff of the President, Artsakh State Minister Artur Harutyunyan are already in Armenia. The deputies of the Artsakh National Assembly are also in Armenia.

— RE:PUBLIC PRESS #StopArtsakhBlockade (@REPUBLICPRESS_) October 3, 2023
More Illegal Arrests By Azerbaijan
Near the Hakari Bridge, Azerbaijanis abducted Artsakh National Security Service Director Ararat Melkumyan, MediaHub reported. pic.twitter.com/cW93MEgIJ1

— RE:PUBLIC PRESS #StopArtsakhBlockade (@REPUBLICPRESS_) October 3, 2023
Azerbaijan Erasing The Armenian Language In Artsakh 
"Reintegration" means no more Armenian language in Artsakh! The Armenian dialect of Artsakh was first recorded in the 8th century.

This creature claims to be the assistant to the "member of parliament" for Stepanakert, once a town of 75,000 Armenians, now a barren waste land. https://t.co/iuIEDZJLwk pic.twitter.com/XYOfjjlSqp

— Christopher Khachadour #ArtsakhIsArmenian (@ChrisKhach) October 3, 2023
UN Lying To Protect Azerbaijan: See My Series On The UN 
"No damage was recorded to civilian public infrastructure, including hospitals, schools and residential buildings, cultural and religious sites in the city visited. There is only one store closed in the city," stated UN report. pic.twitter.com/U2guLAKboL

— The US Armenians (@TheUSArmenians) October 3, 2023
More Targeted Shelling To Kill Armenians In Artsakh
Four patients injured in an explosion in Artsakh will be transported to France to continue their treatment there. Seeing the deteriorating situation in Artsakh (Nagorno-Karabakh), it was decided to increase support to Armenia, bringing it to 12.5 million euros, French Foreign…

— RE:PUBLIC PRESS #StopArtsakhBlockade (@REPUBLICPRESS_) October 3, 2023
The Corrupt Russian Peacekeepers Who Looked The Other Way Awarded
❗️🐷 Russian peacekeepers in Artsakh received state awards, apparently due to the successful completion of the task set by the Kremlin and the early completion of the mission.
The mission was to give Artsakh to 🇦🇿 on a silver platter. pic.twitter.com/GG3GBgcTVm

— WorryAboutYou (@armenian_lives) October 3, 2023
Iran Sends Another 60 Ton Of Humanitarian Aid For The Forcibly Displaced Citizens Of Artsakh 
60 tons of humanitarian aid from Iran have arrived in Armenia

Today, a humanitarian shipment sent by the Islamic Republic of Iran to Armenia arrived in Syunik, intended for the displaced people from Nagorno-Karabakh.

The governor of Syunik Province, Robert Gukasyan, and the… pic.twitter.com/bJ5YD6Et05

— 301🇦🇲 (@301arm) October 3, 2023
THE TRUTH WHY IAC WAS IN BAKU HAS BEEN REVEALED!
At #IAC2023, Azerbaijan's state space agency and an Israeli state military aviation and aerospace manufacturer signed an agreement to cooperate on the production and launch of spy satellites in Azerbaijan. pic.twitter.com/vdBypzPbyf

— Lindsey Snell (@LindseySnell) October 3, 2023
MORE MINISTERS OF EUROPEAN PARLIAMENT SPEAK OUT 
EU should reconsider relations with Azerbaijan, MEP Marina Kaljurand says https://t.co/QsBfsbkbhS via @armradio

— Public Radio (@armradio) October 3, 2023
Lawyers Assigned To Begin Collecting Evidence Against Azerbaijan
❗️❗️❗️Dear compatriots!
The Bar Association has created a group that will collect and record photo and video materials that indicate atrocities, war crimes and genocidal actions of Azerbaijanis in Artsakh.

The collected materials will be sent to international organizations in… pic.twitter.com/FaK17mfRuO

— George Ivanovich Gurdjieff ֎ #StopArmenianGenocide (@ArmanKirakosy12) October 3, 2023
Switzerland Sends $1,628,250.00  To The Forcibly Displaced Citizens Of Artsakh
Switzerland allocates CHF 1.5 million for people displaced from Nagorno Karabakh https://t.co/zLMg8joT0N via @armradio

— Public Radio (@armradio) October 3, 2023
French Military Equipment Can Be Sent To Armenia Now!
🌍🇦🇲🇫🇷 The head of the French Foreign Ministry said that Paris agreed to sign an agreement with Yerevan, which will allow it to provide military equipment to Armenia.

— George Ivanovich Gurdjieff ֎ #StopArmenianGenocide (@ArmanKirakosy12) October 3, 2023
UPDATE: FRENCH WEAPONS WILL BEGIN TO BE DELIVERED!
As a result of the meeting between the foreign ministers of #Armenia and #France, it became known that France will begin supplying its weapons to Armenia. https://t.co/bYVEX6UuWY pic.twitter.com/yDkX5DlVdP

— Arthur Maghakian (@ArMaghak) October 3, 2023
Francois-Xavier Bellamy Speaking Truth On Floor Of EU Parlament 
.@fxbellamy:
"Do @EU_Commission and the leaders of our countries now understand why we were warning about the seriousness of the threat in Nagorno-Karabakh, on the doorstep of Europe? And will they wake up now before Armenia itself is attacked?" #NagornoKarabakh https://t.co/vrfdsDSjDL pic.twitter.com/rHRmdbSPXO

— Nara (@nmatini) October 3, 2023
FIRST OF MANY ARMENIAN TRAITORS 
According to Armenian media, he was previously the director of the Avan Plaza hotel in Shushi, and in the 90s he was an activist advocating public diplomacy and visiting Baku quite often. It is also known that Galstyan is the cousin of the deputy of the Ardarutyun,David Galstyan

— WorryAboutYou (@armenian_lives) October 3, 2023
Hits: 121
---
Reader's opinions
---