---
Artsakh Genocide Day Sixteen
Written by AJ Baalman on October 4, 2023
PLEASE WATCH & SHARE ALL OUR PROGRAMS ON ARTSAKH
BE GENEROUS & DONATE & SPONSOR TO HELP THE FORCIBLY DISPLACED CITIZENS OF ARTSAKH
JOIN The Armenian Relief Fundraiser: All Funds will be sent to official charities helping the citizens of Artsakh!
Click To Donate Via Buy Me A Coffee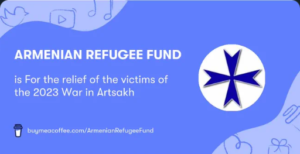 The Beginning, Day One, Day Two, Day Three, Day Four, Day Five, Day Six, Day Seven, Day Eight, Day Nine, Day Ten, Day Eleven, Day Twelve, Day Thirteen, Day Fourteen, Day Fifteen, Day Sixteen, Day Seventeen, Day Eighteen, Day Nineteen, Day Twenty, Day Twenty-One, Day Twenty-Two, Day Twenty-Three, Day Twenty-Four, Day Twenty-Five, Day Twenty-Six, Day Twenty-Seven, Day Twenty-Eight, Day Twenty-Nine, Day Thirty
Watch The Original
Watch On YouTube
Watch On Rumble
Watch On Odysee
THE NEWS
Hearings at the #EU Parliament:

-EU should reconsider its relations with #Azerbaijan,
-There has to be an immediate consequences for Aliyev regime.
-Halt negotiations on a new EU-Aze agreement, halt visa facilitation agreement, termination of gas deal. pic.twitter.com/nAJZd2a4i9

— Jora (@TheScarmind) October 4, 2023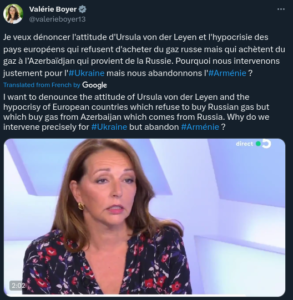 Je veux dénoncer l'attitude d'Ursula von der Leyen et l'hypocrisie des pays européens qui refusent d'acheter du gaz russe mais qui achètent du gaz à l'Azerbaïdjan qui provient de la Russie. Pourquoi nous intervenons justement pour l'#Ukraine mais nous abandonnons l'#Arménie ? pic.twitter.com/iqTo0kQzej

— Valérie Boyer (@valerieboyer13) October 3, 2023
The list of countries that provided assistance to Armenia for forcibly displaced people from Artsakh as of October 3, 2023. pic.twitter.com/J4evPuOPae

— The US Armenians (@TheUSArmenians) October 4, 2023
.@cnn signed a big contract w/ Azerbaijan just before Azeri siege of #NagornoKarabakh, & for 9 months @CNN had ZERO TV report about the genocidal Azeri blockade. Just running Azeri ads.

Now they "cover" it by amplifying Azeri regime lies! @beckycnn @scottmclean @LyndaKinkade,… pic.twitter.com/goGsZM0eOM

— Nara (@nmatini) October 3, 2023
THE WORLD LEADERS ADMIT THEY PLAN EVERYTHING
#EU @ToivoKlaar, #Russia, & #US held secret talks in Istanbul days before the #NagornoKarabakh blitz! Everyone knows what's going to happen! Now they playing dumb! The ethnic cleansing of indigenous Armenians in #Artsakh happened with intl awareness!https://t.co/sYGTscUgqy

— Maro Kochinyan (@MaroKochinyan) October 4, 2023
HERO
🇦🇲 During the recent attack by Azerbaijan after 9 months of blockade, Levon Khachatryan stood up to defend his land.

Single-handedly defending the village of Vank, he took all the fire and stood until the end so that women and children could escape. On September 19 he died.… pic.twitter.com/BkkQzvDTxd

— George Ivanovich Gurdjieff ֎ #StopArmenianGenocide (@ArmanKirakosy12) October 4, 2023
2/3 – We believe this could very well be true. Info available to us put the number of Karabakhi killed at around 500, but official figures have yet to be published. Almost no first hand accounts of troops besides this video, that we hadn't seen prior to this latest conflict. pic.twitter.com/7jF5yNmfEk

— Nagorno Karabakh Observer (@NKobserver) October 4, 2023
3/3 – In the video the one speaking says "hello everyone, today's 19 September, [we're here] with these lions [referring to his fellow soldiers], we're still sitting here, once we get up, well be coming through and retaking Lachin, Shushi… be well, what else should I say…"

— Nagorno Karabakh Observer (@NKobserver) October 4, 2023
UN Is Lying and Red Cross Is Doing The Right Thing 
There are reports by Russian MoD/ MFA and UN Azerbaijan saying everything is fine in Nagorno-Karabakh and there are the ICRC workers in the streets in Stepanakert trying to evacuate the last Armenians left behind. https://t.co/Wi8NqOCWzL

— Anush Ghavalyan (@aghavalyan) October 4, 2023
Desecrating Churches 
These are the #Azerbaijanis that @eucopresident , @SecBlinken , @vonderleyen , @JosepBorrellF , bribed @antonioguterres claimed would coexist with #Armenians . https://t.co/Z91Mq0alxi

— vic gerami (@vicgerami) October 4, 2023
Poland Sends Humanitarian Aid To Armenia To Help The Forcibly Displaced Citizens Of Artsakh
Poland provided humanitarian aid to #Armenia to support the displaced residents of #NagornoKarabakh pic.twitter.com/vclC2FTJBl

— Ararat Petrosyan (@araratpetrosian) October 4, 2023
European Parliament Vs European Union Showdown! 
The final draft of the joint resolution is finished.

The EP slams the EU commission big time.

Voting in the Parliament is tomorrow.https://t.co/PV226fwZAE pic.twitter.com/w2XPgjq10P

— Rasmus Canbäck (@CanbackRasmus) October 4, 2023

God Bless Ms. Schrader Exposing Azerbaijan True Goal
Israeli journalist @emilykschrader exposes some of the nasty authoritarian customs of the corrupt regime in Baku& nails the awful truth that "#Azerbaijan wants to eliminate the first Christian nation in the world, entirely, and their officials have said it explicitly." https://t.co/3RV7qoBFRv

— Tigran Mkrtchyan (@TMkrtchyan) October 4, 2023
Hits: 214
---
Reader's opinions
---