---
Artsakh Genocide Day Eighteen
Written by AJ Baalman on October 6, 2023
PLEASE WATCH & SHARE ALL OUR PROGRAMS ON ARTSAKH
BE GENEROUS & DONATE & SPONSOR TO HELP THE FORCIBLY DISPLACED CITIZENS OF ARTSAKH
JOIN The Armenian Relief Fundraiser: All Funds will be sent to official charities helping the citizens of Artsakh!
Click To Donate Via Buy Me A Coffee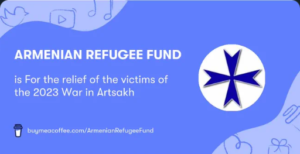 Click Image To Get A Lepanto Flag & All Proceeds Will Go To Help The Forcibly Displaced Citizens Of Artsakh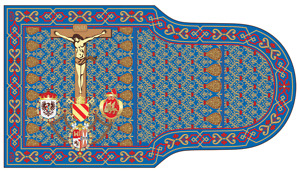 The Beginning, Day One, Day Two, Day Three, Day Four, Day Five, Day Six, Day Seven, Day Eight, Day Nine, Day Ten, Day Eleven, Day Twelve, Day Thirteen, Day Fourteen, Day Fifteen, Day Sixteen, Day Seventeen, Day Eighteen, Day Nineteen, Day Twenty, Day Twenty-One, Day Twenty-Two, Day Twenty-Three, Day Twenty-Four, Day Twenty-Five, Day Twenty-Six, Day Twenty-Seven, Day Twenty-Eight, Day Twenty-Nine, Day Thirty
Watch The Original
Watch On Rumble
Watch On Odysee
THE NEWS
Azerbaijan violated the rights of Armenian prisoners. The ECHR has made a decision in the case of Karen Ghazaryan https://t.co/eNScoqEPoo

— Διγενῆς Ἀκρίτης ֎ Pierre (@Digenes_Akrites) October 6, 2023
🇭🇺🇦🇿🇪🇺 Azerbaijan is of strategic importance for maintaining the energy independence of the European Union (EU), Hungarian Prime Minister Viktor Orban said before the start of an informal meeting of EU leaders in Granada, Spain.

"Azerbaijan is a key country, without Azerbaijan…

— George Ivanovich Gurdjieff ֎ #StopArmenianGenocide (@ArmanKirakosy12) October 6, 2023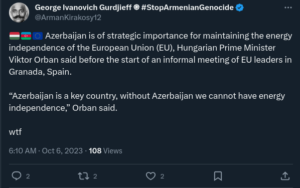 Artsakh Refugee News 
I meet Karabakh/Artsakh refugees (IDP?) everywhere in Yerevan. Confused, worried…

An old man yesterday asked me to help with his credit card.

This morning he found me and gave me this jar of honey…

"I was a beekeeper in Karabakh, God bless you…" pic.twitter.com/PbO7tIQ5Aq

— Marut Vanyan (@marutvanian) October 6, 2023
A friend of mine, Harut killed during 2020 war next to Shushi. This is his grandma's house in Stepanakert after shelling on 19 September.

You live for forty years in Karabakh and don't know if you lived… pic.twitter.com/DWC774Ftah

— Marut Vanyan (@marutvanian) October 6, 2023
On The Sham Trials 
Abduction of NK leaders by 🇦🇿 & Stalin-style sham trials is the handwriting of #YoungTurks, perpetrators of the #ArmenianGenocid aimed at depriving people of their leaders. Same pattern of #EthnicCleansing proves that @presidentaz promises are delusionhttps://t.co/qwKFUvfABt

— Tigran Balayan (@tbalayan) October 6, 2023
The first session of the so-called #Azerbaijan|i "court" on the case fabricated against Vagif Khachatryan, a resident of #NagornoKarabakh/#Artsakh abducted in the Lachin corridor at the end of July, will be held in Baku on October 13.#FreeArmenianPOWs pic.twitter.com/vWZDzLF9Pq

— Karina Karapetyan (@KarinaKarapety8) October 6, 2023
On Russian Peacekeepers Closing Up Shop 
UPDATE: The press secretary of the Armenian Defense Ministry Aram Torosyan reports that the Armenian Defense Ministry has no information about the arrival of the Russian delegation and there are no scheduled meetings. https://t.co/LD0o53NcNJ

— 301🇦🇲 (@301arm) October 6, 2023
International Court Of Justice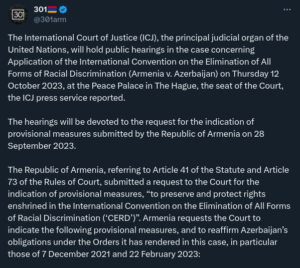 The International Court of Justice (ICJ), the principal judicial organ of the United Nations, will hold public hearings in the case concerning Application of the International Convention on the Elimination of All Forms of Racial Discrimination (Armenia v. Azerbaijan) on Thursday… pic.twitter.com/6WTZ5iqL6N

— 301🇦🇲 (@301arm) October 6, 2023
EU Commissioner For Crisis Management 
🇦🇲 🇪🇺 EU Commissioner for Crisis Management Janez Lenarčić, responsible for European civil protection and humanitarian aid issues, will arrive in Armenia on October 6.

in Yerevan, Lernarčić will hold talks with high-ranking representatives of Armenia and visit places where… pic.twitter.com/hdlyXA2MUV

— George Ivanovich Gurdjieff ֎ #StopArmenianGenocide (@ArmanKirakosy12) October 6, 2023
Refugees Have Been Given $238.40 or 100,000 Armenian Drams By The Government Of Armenia 
About 50,000 internally displaced persons from Nagorno-Karabakh have been paid a lump sum of AMD 100,000, Armenian PM Nikol Pashinyan said on Facebook.

According to the prime minister, they already had bank cards by the time they were resettled. "The funds will be transferred to…

— RE:PUBLIC PRESS #StopArtsakhBlockade (@REPUBLICPRESS_) October 6, 2023
Japan Sends Humanitarian Help
#Japan to provide 2 million dollars in emergency grant aid for people fleeing Nagorno-Karabakh https://t.co/u5JbWGLGdU via @armradio

— Public Radio (@armradio) October 6, 2023
News On Ruben 
According to the Ombudsman, Vardanyan allegedly expressed satisfaction with the conditions of detention. He also reported that he had undergone a preliminary medical examination and had no health problems.Vardanyan will be able to communicate with his family by phone. pic.twitter.com/YtVT8gk5FR

— The US Armenians (@TheUSArmenians) October 6, 2023
More Humanitarian Aid
In cooperation with @TufenkianFound, 18,000 boxes of canned #food were provided to 500 #Artsakh people temporarily living in AMAA shelters. pic.twitter.com/MrQU3aEGjM

— AMAA Armenia (@AMAA_Armenia) October 6, 2023
More Calls To Punish Azerbaijan
"It's time we hold Azerbaijan accountable for its unacceptable ethnic cleansing and clear pattern of aggression"#120000Reasons for friends from Louisiana & across America to thank @SenBillCassidy for his leadership in saving Armenian Christians & holding Azerbaijan accountable pic.twitter.com/0Sc4YXmHE6

— ANCA (@ANCA_DC) October 6, 2023
Turkish Hungary Defending Azerbaijan
To sweeten the bitter pill for the #Armenians, #Hungary has handed over 102,000 euros to the Armenian Red Cross Society to help the #Artsakh people and expressed readiness to mediate in negotiations on the return of POWs. 2/2

— Karina Karapetyan (@KarinaKarapety8) October 6, 2023
Bravo France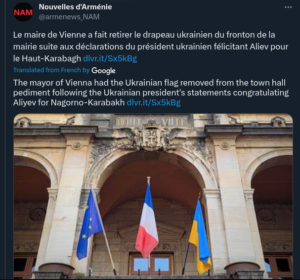 Le maire de Vienne a fait retirer le drapeau ukrainien du fronton de la mairie suite aux déclarations du président ukrainien félicitant Aliev pour le Haut-Karabagh https://t.co/gNPMwNxADD pic.twitter.com/ZtfeXo62OI

— Nouvelles d'Arménie (@armenews_NAM) October 6, 2023
Rothschild TV Network Defending Azerbaijan
.@BBCWorld continues amplifying Azeri genocidal regime's propaganda without appropriate fact-checking them. @AmroliwalaBBC, pls note, the interview with Azeri Ambassador to the UK was full of disgusting lies.
1) The cities/villages that they ethnically cleansed have never been… https://t.co/SxIElIOsEA pic.twitter.com/L9U0cIN3XZ

— Nara (@nmatini) October 6, 2023
Euro News Defends Ethnic Cleansing Of Artsakh 
#EuroNews = #CaviarJournalism https://t.co/Q7eIq7nfp8

— vic gerami (@vicgerami) October 6, 2023
War Crimes By Azerbaijan 
Terrorists from Azerbaijan 🇦🇿 throwing a grenade into the family home of an Armenian family in Artsakh🇦🇲 and mercilessly shooting at the house to make sure no civilian is left alive #AzerbaijanIsATerroristState #Nagorno_Karabakh pic.twitter.com/QXcBx9hfMh

— A World United Against Terrorism (@AWorldUnited2) October 6, 2023
Biden Doing It Again
The Aliyev Regime is planning to expand its campaign into the heart of Armenia.

President Biden's silence makes him complicit in Azerbaijan's constant assaults.#120000Reasons to Sanction Azerbaijan pic.twitter.com/fpLA7jkxyq

— 120,000 Reasons (@120000Reasons) October 6, 2023
Great Job ABC News 
Great reporting by @ABC's @Reevellp about Azerbaijan's #EthnicCleansing of the entire Armenian population of #NagornoKarabakh. @SiranushSargsy1: "In like one day, you lose everything. I lost myself." pic.twitter.com/b1ImGzzVkK

— Nara (@nmatini) October 6, 2023
God bless Them! 
ՀՕՄը Արցախցիներու կողքին

The Armenian Relief Society has been on the ground preparing aid and supporting the humanitarian efforts for the displaced Armenian of Artsakh.

To support the efforts of the ARS, donate at https://t.co/AfVRpCs7SI pic.twitter.com/QAgsTzNVE9

— ARF Youth Office (@ARFYouthOffice) October 6, 2023
Hits: 211
---
Reader's opinions
---