---
The Armenian Genocide 2023
Written by AJ Baalman on September 20, 2023
JOIN The Armenian Relief Fundraiser: All Funds will be sent to official charities helping the citizens of Artsakh!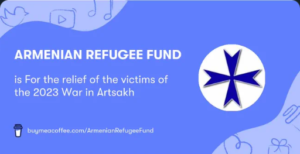 The Beginning, Day One, Day Two, Day Three, Day Four, Day Five, Day Six, Day Seven, Day Eight, Day Nine, Day Ten, Day Eleven, Day Twelve, Day Thirteen, Day Fourteen, Day Fifteen, Day Sixteen, Day Seventeen, Day Eighteen, Day Nineteen, Day Twenty, Day Twenty-One, Day Twenty-Two, Day Twenty-Three, Day Twenty-Four, Day Twenty-Five, Day Twenty-Six, Day Twenty-Seven, Day Twenty-Eight, Day Twenty-Nine, Day Thirty
Today, Is A Sad Day In Human History!  History Again Has Repeated Itself! Welcome To The Armenian Genocide 2023. 
Watch The Original
Watch On YouTube
Watch On Rumble
Watch On Odysee
NEWS
The 2nd Armenian Genocide. The same perpetrators, the same victims. pic.twitter.com/knIIf1dMSG

— Zartonk Media (@ZartonkMedia) September 20, 2023
⚡️SHARE
The terrorist authorities of #Azerbaijan presented a list to the authorities of #Artsakh, demanding to hand over all those mentioned in the list. That list (thousands!) includes Artsakh government officials and all those men who have fought for their country, for their…

— Lily | #RecognizeArtsakh (@Lily__Ray) September 20, 2023
In Artsakh
1919: Ghaibalishen Massacre
1920: Shushi Massacre
1991: Operation Ring
1992: Maragha Massacre

In Nakhichevan
1918: Massacres
1919: Agulis Massacre
1988: expulsion

In Azerbaijan:
1918: Baku September Days
1988: Sumgait Pogrom
1988: Kirovabad Pogrom
1990: Baku Pogrom https://t.co/1uxduWGHzS

— Christopher Khachadour #ArtsakhIsArmenian (@ChrisKhach) September 20, 2023
⚡️As of 9:30 p.m. on September 20, there are at least 200 fatalities and over 400 injuries in Artsakh. Among the civilian population, there are more than 40 wounded, including 13 children. Currently, there are 10 confirmed civilian casualties, including 5 children @ArtsakhOmbuds

— Tatevik Hayrapetyan (@TatevikHayrape1) September 20, 2023
Yet you branded us, alarmists, extremists, and partisans, and went with "neutral" and neutered commentators and analysts peddling vanilla. You stopped inviting us to your TV programs, to your radio shows, to your podcasts, and to your newspapers. And now you want a comment?

— Artyom Tonoyan (@DrArtyomTonoyan) September 20, 2023
The world is watching as Armenians are forced to leave their indigenous historic homelands or live under a murderous dictatorship that starved them for 9 months with the blockade at Lachin. UNSC must insist on a peacekeeping mission in Artsakh to protect the local population https://t.co/uyC9OHptv6

— Serj Tankian-#StopArtsakhBlockade (@serjtankian) September 20, 2023
⚡Now that dictator Aliyev, the EU's "reliable partner", is bombing the Armenians 🇦🇲, i.e. the indigenous people of Artsakh (a democracy), after starving them for 9 months,
⚡now that he's violating the agreements he himself signed, claiming 30,000 young men 🇦🇲 i.e. 1/4 of the…

— #StandWithArmenia (@ARMARAS_) September 20, 2023
Enough is enough! Nikol Pashinyan did NOT choose democracy. He chose to destroy Artsakh and Armenia.
The biggest terrorists are Azerbaijan and Turkey.
And MOST Azeris are no different from criminal genocidal Aliyev.
Remember this video? https://t.co/ektIIr49gy pic.twitter.com/IVZuxlAAFZ

— Lily | #RecognizeArtsakh (@Lily__Ray) September 20, 2023
BREAKING: Over 200 Killed (10 Civilians) & Over 400 Injured (Over 40 Civilians) In Artsakh From Azerbaijan's Large-Scale Attack On September 19 & 20 pic.twitter.com/hV5ihpbqRr

— Zartonk Media (@ZartonkMedia) September 20, 2023
The Enabler Of The Genocide 
Called on @presidentaz Aliyev in a phone call this morning to ensure full ceasefire & safe, dignified treatment by Azerbaijan of Karabakh Armenians.

Their rights and security need to be credibly guaranteed. Access needed for immediate humanitarian assistance.

— Charles Michel (@CharlesMichel) September 20, 2023
A Deadly Repeat Of Bosnia 
A Srebrenica-like situation is exactly what I expect from Aliyev and his henchmen. Armenian men will be rounded up and put in prisons especially built for them. This is a nightmare happening and there seems to be no end in sight. https://t.co/Kr7xbNya3Q

— Artyom Tonoyan (@DrArtyomTonoyan) September 20, 2023
Two facts from this past war in Nagorno Karabakh stick out:

▪️it literally lasted 24 hours (13:00 hours 19 Sep. to 13:00 hours 20 Sep.)

▪️Karabakh to formally capitulate on 21 September in Yevlakh, Armenia's Independence day.

— Nagorno Karabakh Observer (@NKobserver) September 20, 2023
Meet Another Reason For Sacking Artsakh: The Minerals: Anglo Asian Mining 
Azerbaijani troops have taken over the Kashen copper & molybdenum deposits mine of #NagornoKarabakh.@AAZMining @GovChrisSununu's family, & war profiteering @govuk and @JamesSharpUK must be really happy about this. They got what they wanted, albeit through #ArtsakhGenocide. ⬇️🧵 https://t.co/N03XvxqJC7

— Nara (@nmatini) September 20, 2023
John H. Sununu former Governor Of New Hampshire
Mohammed Reza Vaziri, former Head-Foreign Relations Office at Ministry of the Imperial Court of the Shah of Iran.
Hits: 330
---
Reader's opinions
---