---
Artsakh Genocide Day Seven
Written by AJ Baalman on September 25, 2023
BE GENEROUS & DONATE
JOIN The Armenian Relief Fundraiser: All Funds will be sent to official charities helping the citizens of Artsakh!
Click To Donate Via Buy Me A Coffee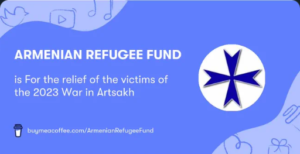 The Beginning, Day One, Day Two, Day Three, Day Four, Day Five, Day Six, Day Seven, Day Eight, Day Nine, Day Ten, Day Eleven, Day Twelve, Day Thirteen, Day Fourteen, Day Fifteen, Day Sixteen, Day Seventeen, Day Eighteen, Day Nineteen, Day Twenty, Day Twenty-One, Day Twenty-Two, Day Twenty-Three, Day Twenty-Four, Day Twenty-Five, Day Twenty-Six, Day Twenty-Seven, Day Twenty-Eight, Day Twenty-Nine, Day Thirty
Watch The Original
Watch On YouTube
Watch On Rumble
Watch On Odysee
The News Of The Day
painful reality of people being uprooted from their homes, their lives disrupted, and their futures uncertain pic.twitter.com/IGN6yRyfZZ

— Siranush Sargsyan (@SiranushSargsy1) September 25, 2023
Not so good morning from Kornidzor, Armenia.
People coming from NK/Artsakh are completely traumatized.
Older people who saw at least 4 huge wars in the last 30 years say that the September 19 attack of Azerbaijan was the most brutal and deadly one they ever saw. pic.twitter.com/bWhMuJUX6e

— Yana Avanesyan (@ianaavanesian) September 25, 2023
Aliyev's trolls have a clear task: flood under every tweet on the ongoing genocide of Nagorno-Karabakh with "Armenians did the same in the 1990s," as if Azerbaijanis were the only victims of the first war. A twisted, genocidal regime that will be held accountable in due time.

— Simon Maghakyan (@simonforco) September 25, 2023
Taking my last footages in Stepanakert…

After an hour I'll say goodbye… pic.twitter.com/2FkplWofTn

— Marut Vanyan (@marutvanian) September 25, 2023
"I don't see a future for Armenia without Nakhijevan. Nakhichevan should be part of Armenia."

Jirayr Sefilyan, 2012. pic.twitter.com/Z4yboeQArv

— Διγενῆς Ἀκρίτης ֎ Pierre (@Digenes_Akrites) September 25, 2023
International system failed this people who today have to leave their homeland to save their lives. #Stepanakert, #Artsakh/#NagornoKarabakh

Photos by David Ghahramanyan pic.twitter.com/Yr6EPyJLLp

— Anna A. Naghdalyan (@naghdalyan) September 25, 2023
Mass preparation and forced displacement in Artsakh.
What is it if not genocide?
Strong international guarantees are needed to return these people to their ancient land, as they are eager to live here but with security and dignity.#StopArmenianGenocide2023 https://t.co/z0NF1by4PX

— Artak Beglaryan | #StopArtsakhGenocide (@Artak_Beglaryan) September 25, 2023
In the face of heavy exodus… pic.twitter.com/Ppo0nUPD2u

— Siranush Sargsyan (@SiranushSargsy1) September 25, 2023
#Stepanakert now.#Artsakh residents are being displaced. pic.twitter.com/IDS8xbsNXB

— Ani Abaghyan (@abaghyan_a) September 25, 2023
Title of this picture: Unconditional LOVE 💔

Stepanakert prior to invasion by the terrorist state of Azerbaijan was easily the cleanest city in the world.
I can't believe that while facing ethnic cleansing, this lady is still wiping the streets. This is a testimony of how much… https://t.co/o8oVdvNDqw

— Lily | #RecognizeArtsakh (@Lily__Ray) September 25, 2023
The night was tough …
People from Artsakh/NKarabakh are continuing to be evacuated to Armenia, hopeless, desperate, and without any clue of their future. pic.twitter.com/bA0FH1dZm5

— Yana Avanesyan (@ianaavanesian) September 25, 2023
#Azerbaijanis are raping women & children then beheading them. @UN @UNOSAPG @hrw @amnesty @SecBlinken @POTUS @EU_Commission pic.twitter.com/9pXidMTGqB

— vic gerami (@vicgerami) September 25, 2023
#Azerbaijan's genocide by ethnic cleansing happening now in #NagornoKarabakh After the war, war crimes, bombing civilians, killing children, #Azerbaijan has achieved the objective of genocide. 120,000 #Armenians are too afraid to stay under the control of #Azerbaijan's soldiers. https://t.co/kczaAIQZ6c

— Armenian Alliance (@ArmAlliance) September 25, 2023
French President Supporting Armenia and Artsakh
Yesterday, 🇫🇷Pr. @EmmanuelMacron confirmed the threat to #Armenia's territorial integrity, and France's support to the Armenian people.
The risk is coming from Turkey, Azerbaijan, and Russia. #Syunik pic.twitter.com/X9nmabzdpD

— Nara (@nmatini) September 25, 2023
Rallies In Support Of Artsakh 
National anthem of Artsakh. Rally in Support of Artsakh in downtown Toronto. #Artsakh #ArtsakhGenocide #Armenians #Armenia pic.twitter.com/tut9u8k55w

— Horizon Armenian News (@HorizonWeekly) September 24, 2023
#Artsakh children inscribe words of farewell on the walls of their homes.

In the face of #Azerbaijan's genocidal policy and international community's inaction, the indigenous people of Artsakh are forced to leave their homes. pic.twitter.com/w65hKNRbyF

— Anna A. Naghdalyan (@naghdalyan) September 25, 2023
This is Nver. Killed by Azerbaijan, along with his brother Mikael.
The mother had to go to the morgue to identify her two sons. His head was severed in the Azerbaijani airstrike. This is the regime whom the West supports and enables. #NagornoKarabakh #EthnicCleansing https://t.co/kDC6SE3fAY pic.twitter.com/Elxgi3VLkW

— Nara (@nmatini) September 25, 2023
Armed Azerbaijani groups are terrorizing civilians in Artsakh, forcibly displacing them from their homes. pic.twitter.com/51jr3VbSpM

— Ararat Petrosyan (@araratpetrosian) September 25, 2023
😭Listen to her… Listen…

Excruciatingly painful and equally beautiful goodbye to her ancestral Armenian village of Chartar by Anush Sargsyan.❤️💙🧡 #EthnicCleansing #Artsakh #NagornoKarabakh #StopAzerbaijan pic.twitter.com/odBaxlx91a

— Nara (@nmatini) September 25, 2023
.@HaykGhazaryan1, CivilNet's #Artsakh team:

1/2 "To say the situation is sad in Stepanakert is to say nothing. There are queues @ gas stations, pawn shops. I was also sent on an errand – to get 20L of petrol, but queues are not my forte. Today, my sister's family is leaving,.. pic.twitter.com/9R7YlW3HGl

— CIVILNET (@CivilNetTV) September 25, 2023
I can write a long-form article, but it still won't explain the #ArtsakhGenocide as well as this poster I made. pic.twitter.com/4o7xkui9Cq

— vic gerami (@vicgerami) September 25, 2023
Over 100 bodies found during ongoing search and rescue operations in #NagornoKarabakhhttps://t.co/e38tcggdJT pic.twitter.com/ODXOgXM4WL

— ARMENPRESS News (@armenpress) September 25, 2023
US media outlets are failing us. I've prepared a report for elected officials that summarizes on-the-ground reports & eyewitness accounts in #Artsakh since 9/19: https://t.co/iEhKf5IlbQ (pdf) & https://t.co/DH4yPX6JoV (web) #ArtsakhGenocide #ArmenianGenocide2023

— Kev Abazajian #ArmenianGenocide2023 (@kevaba) September 24, 2023
As of 12 on September 25th, a total of 4.850 Artsakh citizens have crossed into Armenia. pic.twitter.com/4lzOO5EWqk

— 301🇦🇲 (@301arm) September 25, 2023
Fueling station just blew up in Artsakh as people were trying to fill up to leave. Close to 100 casualties. This is hell — except in hell you know what to expect. pic.twitter.com/FRuTXNEGuW

— Gev Iskajyan (@geviskajyan) September 25, 2023
URGENT – #airlift for Artsakh now ‼️ SOS ‼️ To transport the wounded from Stepanakert to Armenia. As a result of the explosion, many people are seriously injured. The healthcare system in Artsakh cannot bear that burden now. There is not enough staff, not enough medicine.@UN pic.twitter.com/la5qk0UmjG

— Seda Grigoryan 🇦🇲 #SanctionAzerbaijan (@CineSeda) September 25, 2023
🛑The main hospital in Stepanakert is at capacity!

Following the fuel blast, many patients have been transported to the Russian peacekeepers' hospital, others to the Children's hospital.

The number of casualties and injuries is very high. We need an airlift for the injured now! pic.twitter.com/bjVdrjw7CS

— Siranush Sargsyan (@SiranushSargsy1) September 25, 2023
The military doctors of the Russian special medical unit provide medical assistance to the citizens of Artsakh, who were injured during the explosion in the fuel warehouse near the Stepanakert-Askeran highway. pic.twitter.com/AM1QTZU9jC

— The US Armenians (@TheUSArmenians) September 26, 2023
Go Figure, Azerbaijan Using Lies To Destroy Artsakh, Same As Russia Is Doing For Ukraine 
Stories about large quantities of weapons found in #NagornoKarabakh are #Azerbaijan's propaganda to help justify an #ArmenianGenocide 800 weapons were turned over to Russian peacekeepers, 90% of those weapons were riffles used by #Artsakh Defense Forces, not heavy weapons. https://t.co/YKc0vbTdNB

— Armenian Alliance (@ArmAlliance) September 25, 2023
God Bless This Hero!  
🇦🇲Grigoryan Garegin died the death of the brave alone defending the village from enemy special forces, where the evacuation of civilians was underway

Thanks to his defense, everyone was able to be evacuated, and he himself immortalized his name in the history of the Motherland… pic.twitter.com/JflJhKPWe1

— George Ivanovich Gurdjieff ֎ #StopArmenianGenocide (@ArmanKirakosy12) September 25, 2023
‼️ARMENIANS: GET TO KNOW YOUR HEROES WHO GAVE THEIR LIVES FOR #ARTSAKH/#KARABAKH/#ARMENIA

– Garegin Harutyunyan (Artsakh)
– Samvel Stepanyan (Martakert)
– Suren Ohanyan (Artsakh)
– Arayik (Kotayk)

ETERNAL GLORY🇦🇲 pic.twitter.com/6qy8MxaXzk

— Anush Mkhitaryan (@Haybaji) September 25, 2023
SKY NEWS; UK Version Of Fox News In America, Got It Right!
@SkyNews got it right

"Armenians have been living there since the 4th century" https://t.co/exSjf8bVIV

— Bedig A. (@Bedig_A) September 25, 2023
Hits: 1370
---
Reader's opinions
---