---
Artsakh Genocide Day Six
Written by AJ Baalman on September 24, 2023
JOIN The Armenian Relief Fundraiser: All Funds will be sent to official charities helping the citizens of Artsakh!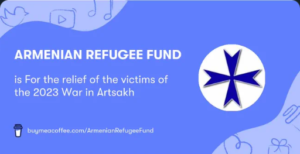 The Beginning, Day One, Day Two, Day Three, Day Four, Day Five, Day Six, Day Seven, Day Eight, Day Nine, Day Ten, Day Eleven, Day Twelve, Day Thirteen, Day Fourteen, Day Fifteen, Day Sixteen, Day Seventeen, Day Eighteen, Day Nineteen, Day Twenty, Day Twenty-One, Day Twenty-Two, Day Twenty-Three, Day Twenty-Four, Day Twenty-Five, Day Twenty-Six, Day Twenty-Seven, Day Twenty-Eight, Day Twenty-Nine, Day Thirty
Watch The Original
Watch On YouTube
Watch On Rumble
Watch On Odysee
The News
Day/night people are coming to ICRC office to change phones.

I'm also here. Colleagues, friends sorry I can't reply to your messages sometimes. Sorry about that. Thank you everyone for warm words. IDK how to thank you all. pic.twitter.com/fUIvyY8yOq

— Marut Vanyan (@marutvanian) September 24, 2023
Not that anything matters any more but Reza should be remembered for being a genocide propagandist. A good person cannot care for the suffering of one people while celebrating the suffering of another. https://t.co/9GnYt7ecuT

— Simon Maghakyan (@simonforco) September 24, 2023
All #genocide perpetrators learn from past genociders. After 9 months of total siege&now a military aggression #Azerbaijan is denying ANY access for ANY journalist,international mission to the areas it has seized, where reportedly cruelties have been committed. We can guess why. https://t.co/fXdyoPgSNg

— Tigran Mkrtchyan (@TMkrtchyan) September 24, 2023
I swear to God, at this point I have a deep conviction that the entire Foggy Bottom staff are like Ilf & Petrov's Ellochka the Cannibal character from 12 Chairs whose vocabulary consisted of 30 words. These dopes know probably less – concern, deep concern, serious concern. Unreal https://t.co/JaV1yyyyHe

— Artyom Tonoyan (@DrArtyomTonoyan) September 24, 2023
Sarnaghbyur community of Askeran region had 76 residents before the attack of Azerbaijan on September 19. 5 were killed, 15 were wounded, 4 were captured by Azerbaijan.

The names of the civilian victims from Sarnaghbyur:
Alexander Alexanyan
Gohar Grigoryan
Nver Ghazaryan…

— Artsakh / Nagorno-Karabakh Human Rights Ombudsman (@ArtsakhOmbuds) September 24, 2023
MEDIA ADVISORY: On-the-Ground Reports from Journalists and Sources in #Artsakh ( #NagornoKarabakh ). Evidence since September 19, 2023, of an Unfolding #Genocide

Dr. Kevork N. Abazajian @kevaba , Ph.D., Professor of Physics & Astronomy at the University of California, Irvine,…

— vic gerami (@vicgerami) September 24, 2023
Ombudsman of #Artsakh: These residential houses in Berqadzor of the Askeran region were targeted and destroyed by the #Azerbaijan/iAF during the attack on September 19, 2023.#NagornoKarabakh #ArtsakhGenocide #StopArmenianGenocide2023 pic.twitter.com/Jtho1KHeUe

— Karina Karapetyan (@KarinaKarapety8) September 24, 2023
#Azerbaijan deliberately targeted, killed and wounded #Armenian civilians in #NagornoKarabakh 24 hours of continuous bombing targeted cities, towns and villages. Children seeking shelter were bombed. Individual houses were bombed. #SanctionAzerbaijan#ArmenianGenocide2023 https://t.co/69k8DPhtqp

— Armenian Alliance (@ArmAlliance) September 24, 2023
Artsakh children in shelters realize what is going on in Stepanakert while looking at it with the child's innocence

Credits by maryampogosian pic.twitter.com/IzvS5G1cAl

— The US Armenians (@TheUSArmenians) September 24, 2023
Armenian Protests Around The World 
Armenians in Montreal and around the world are protesting to Stop #ArtsakhGenocide pic.twitter.com/ye2x17H4AL

— Lily | #RecognizeArtsakh (@Lily__Ray) September 24, 2023
Demonstration for #NagornoKarabakh today in Bern, Switzerland. https://t.co/l61P9PLZ8u pic.twitter.com/CY4fcNvueJ

— Joel Veldkamp (@JoelVeldkamp) September 23, 2023
In a recent article, WBBM NEWSRADIO reports on a protest hosted by the ANC of IL at Chicago's Daley Plaza, vehemently condemning Azerbaijan's genocidal regime in Artsakh. pic.twitter.com/G8Nco58Svp

— ANCA Eastern Region (@ANCA_ER) September 24, 2023
Today Vienna, Austria #Artsakh pic.twitter.com/t6VDdfHF13

— GarBar #StopArtsakhBlockade (@GarBarVie) September 24, 2023
Another Russian Peace Keeper Murdered! Rest In Peace 
🇷🇺🇦🇿Another Russian peacekeeper killed by Azerbaijani aggressors in Artsakh.

39-year-old #AntonShvoren [RIP], originally from the Rostov region, lived in Kamensk-Shakhtinsky with his wife and two daughters. 1/2https://t.co/82C90y6VvZ pic.twitter.com/hdg5P2HC5W

— Vahe Balabanian (@VaheBalabanian) September 23, 2023
23 People Have Crossed The Lachin Corridor For Medical Care In Yerevan! 
23 ambulances with 23 injured passed from Nagorno-Karabakh through the Lachin Corridor to Armenia.

'The ambulances, accompanied by the ICRC have just passed through the Hakari bridge,' Armenian MoH informed.

— Anush Ghavalyan (@aghavalyan) September 24, 2023
First Of Many Mass Graves 
I'm sorry brothers and sisters, you deserved better. Nothing else to say. https://t.co/XhmAfd6jt3

— Christopher Khachadour #ArtsakhIsArmenian (@ChrisKhach) September 24, 2023
Still morning in Stepanakert… pic.twitter.com/sIN3hCqPAh

— Marut Vanyan (@marutvanian) September 24, 2023
Stepanakert. Graves… R.I.P. pic.twitter.com/sqvBT1dzwi

— Marut Vanyan (@marutvanian) September 24, 2023
Brave Anti-Aliyev Azerbaijani Citizens Are Speaking Up, Pray For Their Safety! 
Righteous Azerbaijanis are speaking up because they don't want to be associated with the genocide that Aliyev has launched. They know Aliyev better than anyone else. They can imagine what Aliyev has planned. They have lived under him. Most Armenians don't realize what's coming. pic.twitter.com/CLZgeSMun5

— Simon Maghakyan (@simonforco) September 24, 2023
#Azerbaijan arrests anti-war figures https://t.co/ofbMv3Wl8D

— Vahe Balabanian (@VaheBalabanian) September 24, 2023
Huge Armenian/GOP Rally At President Reagan's Library Planned 
Armenians + allies rallying @Reagan_Library (site of GOP debate) to ask candidates to hold @JoeBiden accountable for arming Azerbaijan genocide of #Artsakh's 120K Christian Armenians: https://t.co/d594vlZWFn#120000Reasons

Tues Sept26 6 PM, 40 Presidential Dr, Simi Valley, CA

— ANCA (@ANCA_DC) September 24, 2023
The Hunt Has Begun To Those Who Witnessed Azerbaijani War Crimes 
It is very reasonable to assume that #Azerbaijan's soldiers who committed massacres and other war crimes will now search for #Armenians who may have been witnesses to those crimes and kill them. #ArmenianGenocide2023 #SanctionAzerbaijan #ArtsakhGenocide https://t.co/hCrgQEdpig

— Armenian Alliance (@ArmAlliance) September 23, 2023
Our Take On Day Five About The Slaughter Of The Border Villages Is Correct 
If this is true and verified Azerbaijan has already committed a mass slaughter of northern Artsakh villages upon their invasion and is now hiding evidence. Thousands of Armenians are still unaccounted for. #StopArmenianGenocide2023 #UNPeaceKeepersForArtsakh https://t.co/Lq5TfLyh63

— Serj Tankian-#StopArtsakhBlockade (@serjtankian) September 23, 2023
Greece Is Now Reporting Through The Guardian Newspaper In The UK
Armenians are being starved to death, denied medical aid and their settlements are now being bombed by Azerbaijan forces causing Armenians to flee their ancestral lands. Who will save the Armenians?https://t.co/aYqy1cdiV7

— Greek Genocide Resource Center (@Greek_Genocide) September 24, 2023
Aliyev Using Putin's Play Book On Invading Ukraine As Special Military Operation To Invade Armenia
Looks like the Turks (Azeris) will use the supposed existence of armed Armenians from Nagorno-Karabakh in Syunik (the "Zangezur Corridor") to justify an invasion as an "anti-terrorist operation."

The Türkiye newspaper says, "Armenian gangs originating from Karabakh are being… pic.twitter.com/Bo18LFBkgC

— Paul Antonopoulos 🇬🇷🇨🇾 (@oulosP) September 23, 2023
More Cities Blockaded 
Martouni city of Artsakh/Nagorno Karabakh after the recent war launched by Azerbaijan.
City is "blockaded" in blockade. Martouni is surrounded by Azerbaijani forces and isolated from the connection to the capital Stepanakert.

Pictures by Lusine Gasparyan pic.twitter.com/zLuSHtLpOK

— Yana Avanesyan (@ianaavanesian) September 23, 2023
Nikol Pashinyan Is Threatening Students To Not Protest
Students of the American University of Armenia are outraged at the administration's announcement to their students about the current situation in Artsakh and the veiled threats to not participate in protests.
Students from various schools, colleges and universities participated… pic.twitter.com/sI9vFKuW3R

— 301🇦🇲 (@301arm) September 24, 2023
UK and EU Will Not Give Up On Azerbaijan Gas and Oil 
The UK and EU are not ready to give up their valuable relationships with the Aliyev regime in #Azerbaijan because of oil, gas, and mineral rights. We hope this will change when the international community has evidence and witnesses to massacres committed in #NagornoKarabakh https://t.co/yxkwP5WrVF

— Armenian Alliance (@ArmAlliance) September 23, 2023
Stepanakert. A city that became a refugee camp… pic.twitter.com/GIGyS545KW

— Marut Vanyan (@marutvanian) September 24, 2023
One of the 120,000 faces of #Artsakh/#NagornoKarabakh 💔

These eyes demand explanation for:
– nine months of blockade
– months of starvation
– war
– forced displacement
–#EthnicCleansing
And why nobody stopped #Azerbaijan?

Photo by David Ghahramanyan pic.twitter.com/ryWgAP2IL2

— Anna A. Naghdalyan (@naghdalyan) September 24, 2023
According To Azerbaijan, It Is Illegal For Any Armenian To Enter Azerbaijan
This is exactly the Armenophobia and inherent racism spread within Azeri society that makes their soldiers commit war crimes. It is an encouraged act of the State. https://t.co/KYrF1V7nnX

— Serj Tankian-#StopArtsakhBlockade (@serjtankian) September 24, 2023
Truth About Secretary Of State Blinken and Yuri Kim Assistant Secretary Of State 
#Blinken @SecBlinken is bought by Azerbaijan , Turkish & Israel lobby. https://t.co/B1MXSQmKHd

— vic gerami (@vicgerami) September 24, 2023
Israel's Role In The Armenian Genocide 2.0 
#Israel 's role in #ArtsakhGenocide & massacre of #Armenians can't be overstated. They support #Azerbaijan with weapons, training, intelligence, propaganda & lobbying. A nation that knows genocide all too well facilitated the Armenian Genocide 2023.

— vic gerami (@vicgerami) September 24, 2023
More Missing People and Children 
In #Artsakh (#Nagorno_Karabakh): bodies of 100 victims killed by 🇦🇿Mil. are in communities isolated from each other; there r cases when several members from 1 family are killed. 1000 of people cannot find their children & parents; they don't know whether they are killed or alive. pic.twitter.com/vPQmjZvbXi

— Arman Tatoyan (@atatoyan) September 23, 2023
From Nanar Poghosyan's FB page:
"In order to find my relatives, I reviewed 59 dead bodies in the morgue, where a grandpa came to me and said, "Don't do this to yourself, dear, go home, you're a young woman, you're still going to have babies, why did you come, tell the men of your…

— Nara (@nmatini) September 24, 2023
Refugees Finally Coming Across 
📸 The 1st group of #Artsakh refugees arrived in Syunik, Armine Simonyan from CivilNet's Syunik team reports. The group of ~ 40ppl, families who lost their homes & made the decision to move to Armenia, passed through the checkpoint & registered at the humanitarian center pic.twitter.com/72ZS2Y8Mxz

— CIVILNET (@CivilNetTV) September 24, 2023
The first group of refugees from Artsakh/ #NagornoKarabakh entered Armenia.

Photos /Source: Bagramyan26 TG pic.twitter.com/zayjND9VjF

— Dr. Anzhela Mnatsakanyan (@ANZHELA_YAN) September 24, 2023
BREAKING: 377 Artsakh Refugees Arrive In Armenia's Syunik After Being Transferred Via Berdzor (Lachin) Corridor, More Transfers Planned pic.twitter.com/FVKt3ZEirZ

— Zartonk Media (@ZartonkMedia) September 24, 2023
Families are leaving behind everything but the clothes on their back. Children robbed of a childhood. The reality for thousands in Artsakh right now. It is the collective responsibility of every Armenian around the world to make sure our people are taken care of. pic.twitter.com/Rc9vIg4Qci

— Gev Iskajyan (@geviskajyan) September 24, 2023
Armenian Children Of Artsakh Finally Get To See and Taste Candy After 10 Months
At Kornidzor checkpoint Red cross gives candy and sweets to the forcefully displaced people from Artsakh/NK.

This kid was so excited when saw the sweets that started collecting them.
Her mom said: "Please sorry us, my kid didn't see a candy for 10 months" pic.twitter.com/NlBXzR8hhO

— Yana Avanesyan (@ianaavanesian) September 24, 2023
Displaced children from NK/Artsakh arrived in Kornidzor, Armenia pic.twitter.com/FwaWygu0y5

— Yana Avanesyan (@ianaavanesian) September 24, 2023
Hits: 948
---
Reader's opinions
---