---
Artsakh Genocide Day Seventeen
Written by AJ Baalman on October 5, 2023
PLEASE WATCH & SHARE ALL OUR PROGRAMS ON ARTSAKH
BE GENEROUS & DONATE & SPONSOR TO HELP THE FORCIBLY DISPLACED CITIZENS OF ARTSAKH
JOIN The Armenian Relief Fundraiser: All Funds will be sent to official charities helping the citizens of Artsakh!
Click To Donate Via Buy Me A Coffee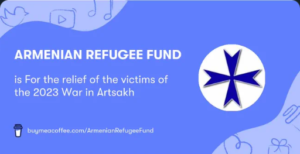 Click Image To Get A Lepanto Flag & All Proceeds Will Go To Help The Forcibly Displaced Citizens Of Artsakh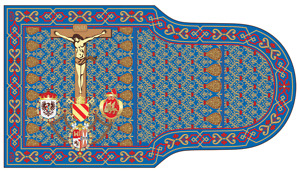 Watch The Original
Watch On Rumble
Watch On Odysee
The Beginning, Day One, Day Two, Day Three, Day Four, Day Five, Day Six, Day Seven, Day Eight, Day Nine, Day Ten, Day Eleven, Day Twelve, Day Thirteen, Day Fourteen, Day Fifteen, Day Sixteen, Day Seventeen, Day Eighteen, Day Nineteen, Day Twenty, Day Twenty-One, Day Twenty-Two, Day Twenty-Three, Day Twenty-Four, Day Twenty-Five, Day Twenty-Six, Day Twenty-Seven, Day Twenty-Eight, Day Twenty-Nine, Day Thirty
The News
The European Parliament has adopted a non-binding resolution, with 491 MPs voting in favor, 9 against, and 36 abstaining, urging the European Union to impose sanctions against Azerbaijan in relation to its offensive against Artsakh, Azerbaijan's continuing policy of ethnic… pic.twitter.com/kKOuPgGFkP

— 301🇦🇲 (@301arm) October 5, 2023
BREAKING: The European Parliament adopted a resolution calling for the #EU to impose sanctions on #Azerbaijan in connection with its actions against Nagorno Karabakh (#Artsakh). pic.twitter.com/GkjvHyWYiJ

— Jora (@TheScarmind) October 5, 2023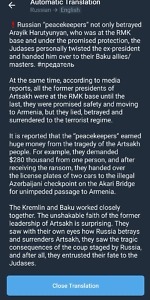 — Διγενῆς Ἀκρίτης ֎ Pierre (@Digenes_Akrites) October 5, 2023
Recent Tally Of Money Given To Help The Forcibly Displaced Citizens Of Artsakh
In the aftermath of Azerbaijan's attack on Artsakh in September 2023, which resulted in the forced displacement of over 100,000 Artsakh Armenians, as of October 4, the following countries have pledged aid to Armenia.

Other forms of humanitarian aid were sent by Iran (60 tons)… pic.twitter.com/Y9zv0F7djd

— 301🇦🇲 (@301arm) October 5, 2023
#BREAKING NEWS: Following the forced exodus of the indigenous population of Artsakh, the Canadian Space Agency, the national space agency of Canada has pulled its participation from the International Astronautical Congress currently underway in Baku, Azerbaijan.… pic.twitter.com/l7dhUJ2WIl

— ANCC_CNAC (@ancc_cnac) October 5, 2023
Recall that Pashinyan's suicidal plan includes the surrender of what he calls "enclaves", under which Azerbaijan will have control over the roads connecting Armenia and Georgia, as well as the road leading to Syunik and Iran. pic.twitter.com/Bpbmkz6Nk5

— George Ivanovich Gurdjieff ֎ #StopArmenianGenocide (@ArmanKirakosy12) October 5, 2023
They did not just "leave." After 10 months of genocidal siege and starvation of 120K civilians, which EU/US chose not to see, Azerbaijan bombed them, killing 500+ in 1 day, incl. children, thus forcing #EthnicCleansing. #SanctionAzerbaijan #NagornoKarabakh pic.twitter.com/014cuRVakV

— Nara (@nmatini) October 5, 2023
There are dozens of videos like this. There is brutality in #Artsakh. I cannot express it in words. It is a very painful situation. The silence of the world is more frustrating than this brutality.#ArtsakhGenocide https://t.co/oCAQgGOAOI

— Anonymous 🕸 (@Parrattarna) October 5, 2023
Azerbaijani cultural erasure of Armenians. Only people with no culture destroy the culture of others. #SanctionAzerbaijan https://t.co/udJ0Wn1fkO

— Serj Tankian-#SanctionAzerbaijan (@serjtankian) October 5, 2023
A dark legacy of Brian McKeon's @bpmckeon64 government service will be his signature on the 2022 Sec. 907 waiver on US military aid to an Azerbaijani army that genocided #Artsakh's 120,000 indigenous Christian Armenians.#120000Reasons

Proof: https://t.co/l7A00J5Fgh pic.twitter.com/Pr5ZBYw6jG

— ANCA (@ANCA_DC) October 5, 2023
Azerbaijan reports its police now custody Armenian monasteries in Nagorno Karabakh, these include the 13th century Gandzasar, the 4th century Amaras monastery and other recently-built churches in Stepanakert. pic.twitter.com/luHzD0rXYs

— Nagorno Karabakh Observer (@NKobserver) October 6, 2023
Baku announces terrorism-related charges against former Nagorno Karabakh presidents Bako Sahakyan and Arkadi Gukasyan, and Parliament speaker Davit Ishkhanyan.

Source: https://t.co/LZ2zRRUDKk https://t.co/xUfKsrOQyy pic.twitter.com/rdTKc350QQ

— Nagorno Karabakh Observer (@NKobserver) October 5, 2023
On September 17,
U.S, EU & Russia had a meeting in Turkey

On September 19,
Azerbaijan attacked Arstakh and concluded ethnic cleansing of Armenians in 1 days week

Sooo…..what did 🇺🇸🇷🇺🇪🇺 agree & disagree on?

What is the connection to Aliyev's attack 2 days later?

????? https://t.co/K6S5QFZ2sO

— Meline / #StopArtsakhBlockade (@Dav4Mel) October 5, 2023
So you all missed this did you @UNinAzerbaijan @AzmissionUN @UN ?

Zero shame! Zero dignity. Zero credibility. #SanctionAzerbaijan #RecognizeArtsakh https://t.co/6EqBAZf4Oj

— TruthMatters003 (@truthmatters003) October 6, 2023
YouTube via Google and their Partnership With Azerbaijan Since 2021, Is Going After Our Programs Detailing The Ethnic Cleansing and Genocide Of The Armenian People Of Artsakh & Saying My Website Is Spam and Scam Filled!
UPDATE: YOUTUBE Sends An Apology and Admits They Made A Mistake & Restores Artsakh Genocide Day 14!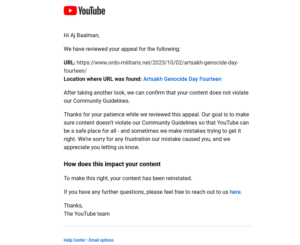 Hits: 49
---
Reader's opinions
---