---
The Action Of The 42nd Division Told By Major MacArthur
Written by AJ Baalman on February 17, 2023
Watch The Original
Watch On YouTube
Watch On Rumble
Watch On Odysee
Learn About The 42nd Division That MacArthur was in
Episode 1, Episode 2, Episode 3, Episode 4, Prelude To World War Two Episode 5,  Episode 6, Episode 7, Episode 8, Episode 9
Again, Thank You Amanda, Director Of The General Douglas MacArthur Museum To Giving Us Permission

Visit Their Website MacArthur Memorial
They Also Do Their Own Podcast, Please Take A Listen
Click Image To Buy A Copy Of General MacArthur's Memoirs!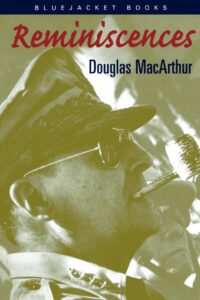 The Korean War
7. How was North Korea founded?
8. How did the Korean War Start and How did the US Begin Military Action or as President Truman called it, "Police Action"?
9. On that same topic, why didn't President Truman call it a war, when it was literally a war against Communism, did President Truman support communism or was he weak on the spread of Communism when China was lost to the new Communist Party?
10.  When was General MacArthur called in to begin turning the tide in the war?
11.  Now onto the amazing victory and invasion of Inchon and why those in Washington was against it.
12.  After MacArthur's amazing victory and taking of Inchon, it seemed like he was about ready to take the rest of North Korea to keep it intact with South Korea and was it his plan to defeat the Communist Chinese Forces?
13.  Why wasn't he allowed to end the risk of the North Korean militants and fired by President Truman?
14.  If and this is just a what if Question from what we all know, if General Douglas MacArthur was allowed to finish the Korean War and my guess defeat the Communist Chinese Forces, would the problems we face today with China and North Korea be an issue or would there be a Communist China?
Hits: 206
---
Reader's opinions
---