---
Who Is Behind The Kidnapping and Death Of Emanuela Orlandi?
Written by AJ Baalman on March 19, 2021
Support Ordo Militaris Radio TV
Stay Tuned For Part Three

From just the beginning of gathering information, it too is connected to the murder of Roberto Calvi, same people involved and as we know from the mobster who came forward in 2012, a lot of this is still unknown because of how high it goes in the Italian Government and Governments around the world.
The Same Mob that killed Roberto Calvi, who wanted their money that was lost in the Banco Ambrosiano, decided to take the girl as hostage to get said money back, but also there was an American who knew Rome, knew all things about the Vatican, Witness Testimony in the book Operation Gladio puts Archbishop Paul Marcinkus with this and that he often visited Emanuela where she was being held.
If you know more about this case, please put it in the comments and we will do our best to verify and then use it for the show.
Watch On Odysee
Watch On Rumble
Must Watch With This Program
Secrets Of the Tomb by Austen Ivereign

The Process Of Canonization For Josemaria Escriva 
Orlandi, Pietro ricorda il padre Ercole
Mi disse: fui tradito da chi servii
Orlandi, il mistero Vaticano lungo 30 anni

Dirt On Archbishop Paul Marcinkus
Click Book Cover Image To Get A Copy
Image Of Enrico De Pedis is taken from Repubblica Newspaper In 2008 and Wikipedia

Unknown Author of Photo is unknown, but author of piece on De Pedis is GIANCARLO DE CATALDO
On Licensing To Use Photo, Please See Image Below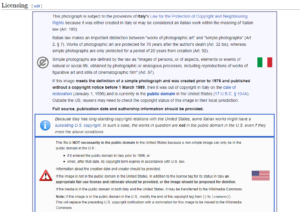 Hits: 39611
---
Reader's opinions
---