---
What Was John Paul II Involvement In The Disappearance Of Emmanuela Orlandi?
Written by AJ Baalman on July 21, 2023
Please Watch & Share All Our Programs
Please Join The OMC Radio TV Studio Fundraiser
Ladies and Gentlemen, Here Is Part Three, Finally & I hope many more to come.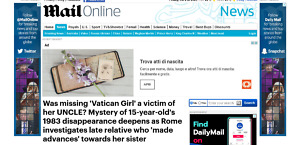 Watch The Original
Watch On YouTube
Watch On Odysee
Watch On Rumble
Yeah, John Paul II went out secretly
Chi è Mario Meneguzzi: cosa sappiamo dello zio di Emanuela che fu pedinato dalla polizia. I legami con i servizi segreti
In Part One, we covered her disappearance, kidnapping and the people behind it that we knew thanks to the book Operation Gladio.
Archbishop Paul Marcinkus
Enrico De Pedis
Click Book Cover Image To Get A Copy
Hits: 11532
---
Reader's opinions
---