---
Pope Francis Declares Open War On The Catholic Church
Written by AJ Baalman on November 12, 2023
Please WATCH and SHARE All Our Programs
Join The OMC Radio TV Studio Fundraiser
Watch The Original
Watch On Rumble
Watch On YouTube
Watch On Odysee
Jorge Bergoglio removed illegally Bishop Strickland and it is time for action to remove this man and his cohort from the Vatican by the only way possible, as my ancestor did to remove a similar man, the Council Of Sutri.
Here is Br. Alexis speaking on what is going on and how to support the new Sutri Initiative 
Sacking Of Strickland Is An Act Of Schism
The News On What Happened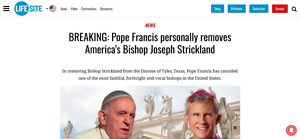 Cardinal Muller's Response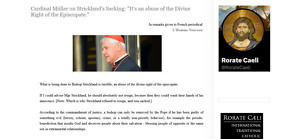 We also did the Error Of Pietism Show
We see how Ohio became another State to enshrine Abortion in their constitution, but what did the Pro Life movement do mostly, by just praying and that is how the Traditional Movement does their things to fight the errors in society is to fall back upon the Lutheran Heresy Of Pietism created by Philipp Spener.  In this program, we will explain the proper way a Catholic does something and it isn't just praying, as St. James writes, "faith without works is dead." As St. Benedict writes, "Ora et Labora: Pray and Work."
By the CIA Doctrinal Warfare Program reprogramming Catholics to accept Lutheran Heresy, we see how they have created the sheep to not fight back and be under their control.
Photo By TMZ
Hits: 19972
---
Reader's opinions
---