---
The Murder Of Pope John Paul I
Written by AJ Baalman on August 4, 2023
Please WATCH and SHARE All Our Programs
Folks, Please JOIN Our OMC Radio TV Studio Fundraiser, We Need You To Help Us Not To Be Censored!
Watch The Original
Watch On YouTube
Watch On Rumble
The tombstone of Pope Paul VI's Mother
In this program, Br. Alexis and I will begin to go through how Pope John Paul I was murdered, the coverup, those involved and who and how it the murder happened.  It is a long investigation chapter by Mr. Yallop, and I want to bring Justice to this Pope, whom I have two relics of.
Part Two: Who Knew The Truth Of How John Paul I Died?
Part Three: Why The Continual Cover-Up Dance By The Vatican, Even To This Very Day?
Please Get This Book That We Will Use!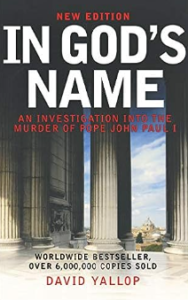 Hits: 13403
---
Reader's opinions
---