---
The Martyrdom Of Pope John Paul I
Written by AJ Baalman on August 20, 2023
Please WATCH and SHARE All Our Programs
Folks, Please JOIN Our OMC Radio TV Studio Fundraiser, We Need You To Help Us Not To Be Censored!
Watch The Original
Watch On YouTube
Watch On Rumble
Watch On Odysee
In This Program, we will get into the real details that Mr. Yallop uncovered and also dive into this list of names which was given to Pope John Paul I, see page 6 of the PDF for the list of names.
Watch Part One
Watch In The Coming Days Part Three
Please Get This Book That We Will Use!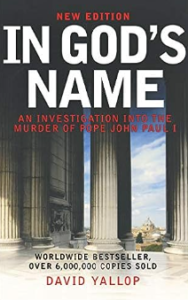 Hits: 18065
---
Reader's opinions
---