---
Who Is Shane Schaetzel and Why Is Twitter Promoting Him?
Written by AJ Baalman on July 5, 2023
Please Watch & Share All Our Programs
Please Join The OMC Radio TV Studio Fundraiser
Watch The Original
Watch On YouTube
Watch On Rumble
Watch On Odysee
NOTE: Schaetzel is the Jewish form Of Schatz
This is a "traddie" who spends his time undermining Catholic belief in the papacy and in Christ's words, I have prayed for you Simon … https://t.co/XjNWgAjurP

— Ordo Militaris Catholicus (@MilitarisCath) July 6, 2023
What Is his political affiliation?  
Why did he do a piece for the National Catholic Reporter?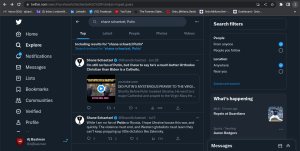 Hits: 8153
---
Reader's opinions
---