---
Who Is Rosalind Moss and Her Public Association Of The Faithful?
Written by AJ Baalman on July 5, 2023
Please WATCH & SHARE All Our Programs
Please Join The OMC Radio TV Studio Fundraiser
Until her Public Association Of The Faithful Is Approved By Rome, I will use her secular name.
What Is An Association Of The Christian Faithful?
What Type Of Jewish Person was she? Sephardi Jews
Where do the ones who come to Brooklyn come from?Aleppo Syria
Her association was founded in the Diocese Of Tulsa Oklahoma, then became nomads until landing in Tyler Texas.
Ross is known to blast Pope Francis, so was the Investigation into Bishop Strickland because of her Association?
One thing is still a mystery, she worked in Business in Los Angeles while a Jew, then became an Agnostic, was then becoming a Quaker and finally due to Scott Hahn, became a Catholic. So, more to investigate before we do our program.
Join Real Social Media By Clicking Our Invite To You!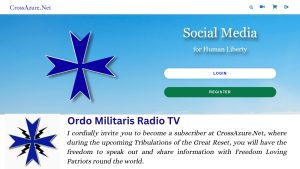 Hits: 219
---
Reader's opinions
---