---
Saint Hildegard Of Bingen : On Creation and The Word Made Flesh
Written by AJ Baalman on January 28, 2022
We were asked to do more Saint Hildegard Von Bingen, I agree, we need to learn from our German Doctor Of The Church.
I believe in this vision we will be covering, the first part sounds more like after the fall, then later she sees the battle of God and the Holy Angels against Lucifer and his minions and then we learn what went down in Heaven that day.
We will be talking about the winds we have, certain seasonal winds brings in heat, then cool rain, then bitter cold.  We will be talking about how and why God created this and what it has to deal with us. Then, it will go into plan of Salvation, when The Word Was Made Flesh.
Click Cover Image To Get The Book $45.00 Hard Back, Sewn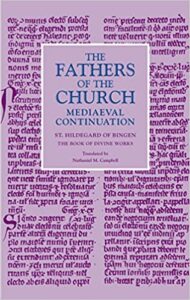 Also on the same page from the publisher, there is an Ebook for $45 dollars as well
Click To Support Ordo Militaris Radio TV
Hits: 4524
---
Reader's opinions
---