---
Gab, Pretender In Being Pro Christian
Written by AJ Baalman on September 28, 2023
In our show on Gab as a pretender in being Pro Christian, we will touch on how their attitude in regards to the Armenian Genocide 2023 happening currently and the entire population still alive of Artsakh being forcibly displaced into Armenia and only two donors after a $70 ad campaign where 70,000 on Gab saw it.  Their attitude to helping Christians in need is the same attitude of those at NRA conventions.  Then I will get into how this is the fake "c"hristian mindset and pretender we do not need to restore America too and will talk how we already have this sort of "c"hristian ideology in America & I will tell what we do need.
Watch The Original
Watch On Rumble
Watch On Odysee
Click Our Banner To Learn About Catholic Party For America

Haga clic en nuestro banner para obtener más información sobre el Partido Católico por América

BE GENEROUS & DONATE TO HELP THE FORCIBLY DISPLACED CITIZENS OF ARTSAKH
JOIN The Armenian Relief Fundraiser: All Funds will be sent to official charities helping the citizens of Artsakh!
Click To Donate Via Buy Me A Coffee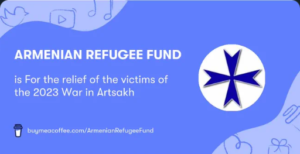 Hits: 289
---
Reader's opinions
---