---
Movie Review : The Skulls
Written by AJ Baalman on November 26, 2022
Watch The Original

Watch On Rumble
Watch On Odysee
Why did Hollywood Hide This Film Until Now?  The Skulls was a very popular movie but the Masonic Movie Reviewers hated it & I will get into why they hated it.
Part Two To This Program On The Real Secretary Of Defense Robert A. Lovett, played by William Peterson in the movie.
See the wikipedia article on The Skulls
$6.21 used DVD or $19.99 brand new Blue Ray or $3.99-$14.99 Amazon Prime Video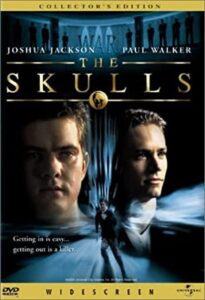 Or, if you have a smart TV with the Tubi free movie channel, you can watch it for free.
PLEASE CONTINUE TO SUPPORT THE OMC STUDIO FUNDRAISER
Click To Donate To The OMC Studio Fundraiser
Hits: 4946
---
Reader's opinions
---