---
Is The SSPX A Gladio Operation?
Written by AJ Baalman on October 24, 2022
Watch The Original
Watch On Rumble

Watch On Odysee
The Father Of Marcel Lefebvre is René Lefebvre, A British Spy in World War I and World War II.  To Be A Member Of MI5, You Must Be A Member Of The Holy Royal Arch; which is associated with the York and Scottish Rite Freemasonry

A Screenshot From The Book The Brotherhood: The Secret World Of Freemasons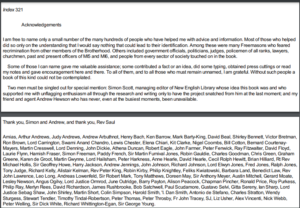 Click PDF Link To Read The Book For Free
Stephen Knight_The Brotherhood The Secret World Of The Freemasons_1983-1985_104pp
Marcel's sister, Marie-Thérèse Lefebvre married Guy de Toulemond, they went to Columbia in 1949, and we know the Lefebvre supported the Vichy Government in France and they made their way to South America via the Ratline that went from Rome Italy to Argentina via Cardinal Caggiano in 1946, last people who arrived was in 1950.
The company her husband started in Columbia called Omnes and they make Ballistic Fabrics
The Genealogy Of Guy de Toulemond
For Further Reading
 Learn About Archbishop Lefebvre connection to Freemasonry himself and the Freemason who ordained him. 
License To Use Image Is CC BY-SA 3.0
Hits: 23618
---
Reader's opinions
---