---
The Ideology and The Man Of John Courtney Murray Part I
Written by AJ Baalman on October 21, 2021
Next Week, We Will Get More Into The Biltimore Conference and the ideology of John Courtney Murray and his life story.
Click To Get The Book: $59 Dollars, Excellent Hard Back. 990 Pages Long.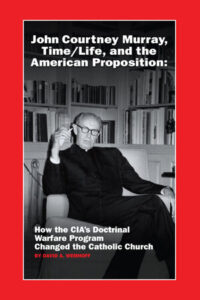 Image Of John Courtney Murray From America Magazine 
Ordination Information Of John Courtney Murray is hidden on normal searches, but if you know the Year and where he was Ordained a Priest: 1933 at Woodstock College Maryland
The Woodstock Letters will pop up on the search results; then go to 1933
"THE YEAR AT WOODSTOCK The following scholastics were ordained to the Priesthood by the Most Reverend Michael J. Curley,
D.D., Archbishop of Baltimore, on June 25, 1933: John F. X. Bellwoar John A. McGuire Andrew F. Cervini Edwin C. Mulligan Thomas J. Coffey James A. Murphy Anthony I. DeMaria John C. Murray Gaston Denis John P. Porter Francis A. Donelan Joseph A. Priestner Joseph S. Duhamel Thomas H. Reilly Joseph T. Durkin Edward J. Reiser Leo F. Fey Charles H. Rohleder James T. Harley Mark A. Shalvoy Joseph A. DTnvilliers Gustave Weigel . Raymond J. H. Kennedy"
Archbishop Michael Joseph Curley Of Baltimore
Now, why not just admit this information directly and not try to hide it? why hide this? Why is this man, John Courtney Murray such a man of mystery?  Tune in, hopefully on October 26th to find out.
Hits: 7881
---
Reader's opinions
---