---
Bill Gates and The Total Dehumanization Of Women
Written by AJ Baalman on March 14, 2021
Support Ordo Militaris Radio TV
We talk on how Bill and Melinda Gates Foundation is behind the Total Dehumanization Of Women by a microchip that can be activated wirelessly either by the person or by someone else at a press of a button.
YouTube Suspension Letter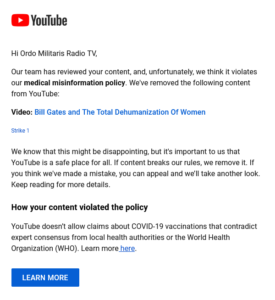 Listen On Mixcloud
Watch On Bitchute
Watch On Odysee
From James Corbett Report: Who Is Bill Gates? At the time stamp of 1:03:32 mark he talks about this.
From The Official Website
Image of actual chip is from report in 2016 'Bill Gates Wants To Turn Your Birth Control On With A Remote'
Hits: 30212
---
Reader's opinions
---