---
How The Deep State Controls The United States Congress
Written by AJ Baalman on November 27, 2020
Listen To Today's Program On Mixcloud
Watch Today's Program On YouTube
Watch Today's Program On Bitchute
In those 17 programs exposing the Deep State, this will be even more nuclear against the Deep State and it will shake them to their core.  It is public record and record of fired FBI Agents who turned Whistle Blowers who were told to remain silent and never speak again.
Why is there so much corruption within the Halls Of Congress and why does it never get cleaned up?
What does the CIA, Afghan Heroin and Congress have to do with this?  Everything.  We will blow the lid off this and share what we know.
Again, all Public Information comes from this 20 Page Report by Professor Peter Dale Scott
Deep Events and the CIA's Global Drug Connection
Click Image To Get A Copy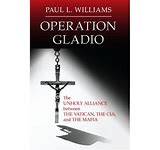 An Inconvenient Patriot by David Rose Interview Of Sibel Edmonds 
Opium Production In Afghanistan 
Exclusive: Top CIA Official Under Investigation
Who's Afraid Of Sibel Edmonds?
Image Of The Seal Of The CIA Is Public Domain


Image Of The Seal Of Congress Is Public Domain


For Whistle Blowers To Contact Us Securely 
ordomilitarisradio@protonmail.com or leave us a comment and we will not publish it.
Hits: 10995
---
Reader's opinions
---