---
Did The CIA Bump Off Mother Angelica?
Written by AJ Baalman on November 20, 2022
Part One Original
Part One On Rumble
Part One On Odysee
Part Two Original
Part Two On Rumble
Part Two On Odysee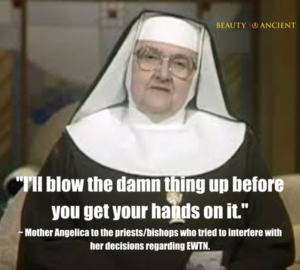 We will look at her life on Wikipedia
We will talk about how she fought and defended the Faith and her numerous battles, which made her a target.
Then we will talk about the man who worked as Director Of Communications For The Bishop Conference who threatened her.
Who is Richard Hirsch: See Article 1 and 2
Who Hirsch worked for while with the Bishops: Vision Interfaith Satellite Network
We can also tie Roger Cardinal Mahony to the CIA Network Of Bishops and Mafia Saint Gallen.
Support OMC Radio TV Studio Fund
Click To Donate To OMC Radio TV Studio Fundraiser
What was Censored, all monies raised are held by Ordo Militaris Inc in a special fund to pay for the building and paying of the expenses of this studio.
Note From Br. Alexis: "Br. Bugnolo misspoke, when he said Cardinal Mahoney, when referring to Pope Benedict's disciplining of Cardinal McCarrick"
Hits: 35852
---
Reader's opinions
---