---
The Years Of 1964 to 1965
Written by AJ Baalman on December 21, 2021
In our next program will detail Christmas and New Years at the Luce's home in Arizona with Father Courtney Murray, with Gerald Heard and the drug LSD.
Then, we move into the Summer of 1965, the drug phase when LSD and Magic Mushrooms are pushed by Life and Time Magazine and it is this new attack on the Youth, is how they go after the Holy Eucharist and literally work on changing the doctrine; pushed by Dominican Edward Schillebeeckx
Then using this same attack, this is when Birth Control is pushed and is accepted, even though Paul VI did not okay it.
Time uses the book by John T. Noonan Jr called "Contraception"
Finally, we finish the Fourth Session Of Vatican II and how the documents were spun.
The main man who began the spinning of the documents was Reverend Lukas Vischer, a Reformed Swiss Theologian Protestant
He used the NCWC News Service; which is National Catholic Welfare Council News Service, now it is called Catholic News Service
Then the Jesuit who gave us the first ever set of the Vatican Two Documents that really did their evil duty we now see, The Vatican Two Documents by Walter M. Abbott Jesuit 
On LSD
Created By Albert Hofmann a Swiss Chemist
How Nazi Scientists Taught The CIA To Dose Soviet Spies With LSD
Hardcover book, 990 Pages: $59.00
Click Image To Get The Book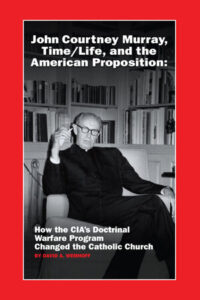 Hits: 17854
---
Reader's opinions
---