---
Is Jorge Bergoglio A CIA Operative and Murderer?
Written by AJ Baalman on November 12, 2020
This is what happens when State Agencies Can Do To A Paid Zoom Account and Shut The Audio Feed Off. I am keeping this video up as a witness to this crime.
Listen To The Program On Mixcloud
Watch The Program 
We will begin to look at Operation Gladio and The Character Who Calls Himself "Pope" Francis and what his connections are to this CIA Operation.
To Get The Book We Will Be Using, Click Book Cover Image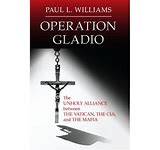 Plus Some More Reports To Back Up The Information In The Book
"Pope" Francis and Argentina's Military Junta Policy Of Mass Assassinations
Who Is "Pope" Francis? Jorge Mario Bergoglio and Argentina's Dirty War
To Send Ordo Militaris Radio TV Donations
1. Address The Check To Ordo Militaris Inc
2. Do The Amount
3. In Memo Section, Write Ordo Militaris Radio TV
Mail It To
Ordo Militaris, Inc.
302 N. Last Chance Gulch, Suite 409
Helena, MT, 59601
U.S.A.
Image From Freepik
Background photo created by jcomp – www.freepik.com
Hits: 6190
---
Reader's opinions
---