---
Day 32 On The Lachin Corridor Blockade
Written by AJ Baalman on January 11, 2023
See Part One, Day 25, Day 30, Day 31.
Why I Will Do My Part For Armenia & Artsakh & Because It Is The Right Thing To Do!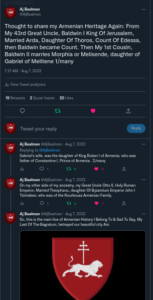 News To See & Share
Artsakh Ombudsman (@ArtsakhOmbuds ) Gegham Stepanyan (@Gegham_Artsakh) joins 301's call to action urging Armenians worldwide to contact the OSCE, UN and Red Cross. pic.twitter.com/XyPaJHMpge

— 301🇦🇲 (@301arm) January 12, 2023
#ArtsakhBlockade by #Azerbaijan reached its critical point of 1 month, leaving 120,000 people without food, medicine and energy supplies, separating hundreds of families, violating all possible human rights of #Artsakh people. The international community must take urgent action. pic.twitter.com/g869QHPsCR

— Artsakh / Karabakh Human Rights Ombudsman (@ArtsakhOmbuds) January 12, 2023
Internet Has Been Restored!
#Azerbaijan has:

-Blocked the only humanitarian corridor connecting #Artsakh with the world for a month now;

-Damaged the only electricity supply line in the middle of the cold winter;

& now,
-Disconnected the internet by damaging cables.

How else can a Genocide be described? pic.twitter.com/oZWEcRrd26

— Jora (@TheScarmind) January 12, 2023
❗️Internet is not available in #Artsakh due to a cut cable in the #Lachin corridor❗️#Armenia #StandWithArtsakh #ArtsakhAirlift @CNN @washingtonpost @nytimes @TIME @dwnews @AJEnglish @Francetele @FRANCE24 @Reuters @AP @UPI @derspiegel @focusonline @sternde

— Arthur Maghakian (@ArMaghak) January 12, 2023
U.S. Repeats Call For Reopening Lachin Corridor To Armenia, Blockaded By Azerbaijan https://t.co/hJx0y8QN2g

— ֍Margarean (@zkhosq) January 10, 2023
— vic gerami (@vicgerami) January 12, 2023
❗️It is already the 32nd day since the Lachin corridor has been closed and the entire Nagorno-Karabakh is under blockade.

❗️For the 32nd day, Azerbaijan has grossly violated the 6th paragraph of Trilateral Statmnt

❗️For the 32nd day, Russia has not fulfilled the obligations.

— WorryAboutYou (@armenian_lives) January 12, 2023
Armenians in #NagornoKarabakh say they are cut off due to Azerbaijan blo… https://t.co/13l1LDcsZK via @YouTube

— Marut Vanyan (@marutvanian) January 12, 2023
🆘Already 3⃣1⃣ days that 🇦🇿 illegally blockaded the corridor connecting Artsakh with Armenia.
Over 120,000 #Armenians, including 30,000 children are intentionally subjected to starvation by genocidal regime of #Azerbaijan, violating numerous protocols of IHLs#StopArtsakhBlockade pic.twitter.com/kQ4vJeHp5o

— 𝕷𝖎𝖑𝖞 𝕽𝖆𝖞 | #StopArtsakhBlockade (@Lily__Ray) January 12, 2023
It's been building to this & he may be chewing tons of fat through his rhetoric but essentially, Pashinyan is trying to say that Armenia is giving up on Artsakh in every measurable way. It's the checkmate speech but masked in verbal diarrhea. https://t.co/cmd4iEckvL

— Dr Hyelander 🇦🇲 🌋 (@Helioprogenus) January 11, 2023
Nightmare musing. If Armenians of Karabakh became AZ citizens, they would have to fight in Aliyev's maniacal wars. He tends to send in minorities and mercenaries to fight his battles. Does that mean AZ Armenians could some day be sent to further the invasion into Armenia?

— bcaron64 (@bcaron64) January 11, 2023
Artsakh hasn't seen any fresh fruit or vegetables come into the country in over month. 30,000 kids denied of vital nutrition, so that Azerbaijan can force its will upon populace here. pic.twitter.com/6nPZCregHA

— Gev Iskajyan (@geviskajyan) January 11, 2023
"Armenians—the world's oldest Christian nation and the victims of the first modern genocide—are under attack." – @SohrabAhmari https://t.co/AObiu6Gv7h

— Andrew Surabian (@Surabees) January 11, 2023
Narek is 8 years old boy from #Artsakh. He has been in blockade with other 30K kids for a month bcs of Azerbaijan. But that's not enough. Now ppl in Artsakh are cut off the electricity.🇦🇿 doesn't let 2 repair the connection coming from #Armenia.Thus, Narek has to study like this! pic.twitter.com/HQPqoDxSsU

— Tatevik Hayrapetyan (@TatevikHayrape1) January 11, 2023
On January 12, at 13:00 Yerevan time, the representatives of the Republic of Artsakh will participate in a teleconference. The live broadcast will be available on my YouTube channel https://t.co/17HFAC2V42

— Ruben Vardanyan (@RubenVardanyan_) January 11, 2023
Fast food in front of the laptop. Been my diet for years. I recently talked to a mom, almost crying says there is no 🥕 so she make soup for 👧. I caught myself thinking that there was soup in this world. #NagornoKarabakh pic.twitter.com/gkCiE0PlBh

— Marut Vanyan (@marutvanian) January 11, 2023
I was trying to buy cotton at the ⚕️ (to clean my laptop).
Sorry, no.
Do you have a bandage roll?
No.
I am asking out of curiosity.
Do you headache tablets?
No.
The shelves looks as ugly as toothless mouth. 💊 are arranged far apart, just to show as if there is something.

— Marut Vanyan (@marutvanian) January 11, 2023
This is Stepanakert, capital city of #Artsakh Nagorno Karabakh on its 3️⃣1️⃣ day of complete blockade by 🇦🇿's criminal regime, now left w/o electricity coz 🇦🇿 forbids the restoration works. So now no food, no medicine, no electricity, no sanctions#ArtsakhBlockade#ArtsakhAirlift pic.twitter.com/3d3RPNo28Y

— Mer-Sed 🇦🇲 #StopArtsakhBlockade (@sed_mer) January 11, 2023
Daydreaming, Kovsakan, Artsakh pic.twitter.com/qcuzEflgFY

— Scout Tufankjian (@stufankjian) January 11, 2023
#StopArtsakhBlockade https://t.co/l81sySMwi6

— 𝕷𝖎𝖑𝖞 𝕽𝖆𝖞 | #StopArtsakhBlockade (@Lily__Ray) January 11, 2023
How You Can Help!  
We must be ready to help those in need.

We must be ready to help in any scenario tomorrow.

Please Donate Food or Clothes to help Armenians in need.

Please don't ignore.

🇦🇲 🇦🇲 🇦🇲 🇦🇲 🇦🇲 🇦🇲 🇦🇲 🇦🇲 🇦🇲 🇦🇲 🇦🇲 https://t.co/dCcumeXFp3

🇦🇲 🇦🇲 🇦🇲 🇦🇲 🇦🇲 🇦🇲 🇦🇲 🇦🇲 🇦🇲 🇦🇲 🇦🇲 pic.twitter.com/MRjGGQalUF

— ARMENIAN FOOD BANK Charity Fund (NGO) (@ArmenianBank1) January 11, 2023
Contact Your Senator, Representative In The House, Your State Government, Your Representatives In Your Parliaments in Europe, Britain, Contact them, be respectful but cause a lot of noise so they have to respond.
Watch By Clicking On January 16 at 9 PM Pacific, 11 PM Central, 10 PM Mountain, 12 AM Eastern or January 17 9 AM Yerevan Time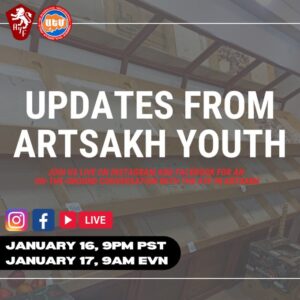 Hits: 252
---
Reader's opinions
---