---
Is The Biden Vaccine Passports The Start Of The Mark?
Written by AJ Baalman on March 28, 2021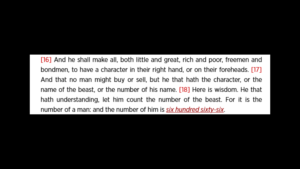 It Is Revealed Today That Biden, following his handlers at the Council On Foreign Relations, Trilateral Commission and The Pilgrim Society, that he is doing the Vaccine Passports that he says all Americans must have to take part in commerce.
I did a post on it at From Rome
See What Gateway Pundit Summarized It From The Washington Post Article
Meet Jeffrey Zients, The Man Leading The Project On The Passports
The New York Vaccine Passport, The Type Biden Wants To Model For All America
IBM Will Be Used To Create This
The Vaccine Passport Propaganda Template by Adam Dick at Global Research
I think It Is Necessary To Do A Catechetical Program On This Topic, So I Hope Tomorrow, Monday, We Can Do This.
Prepare For Spiritual Battle, But Do Not Fear The Enemy or Give Into Them!
Deus Vult!
Early Church Fathers On The Mark
On Christ and The Antichrist By Saint Hippolytus 
Paragraph 48 and 49.
---
Reader's opinions
---